TEN YEARS AFTER Evolution Kultopolis TYACD004 (2008)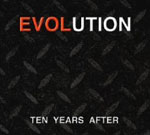 'Evolution' is an accurately titled new album by the reformed Ten Years After. It is in fact 5 years since the young mercurial vocalist/guitarist/song writer Joe Gooch joined the ranks and recorded the impressive 'Now ' album.
And while 'Evolution' doesn't quite have the same frisson as 'Now', it remains a significant step forward towards a more song based style. Joe delivers the requisite grooves and adds some steely licks and tone colours while the Nashville exiled Leo Lyons provides the perfect foil for Gooch's exuberant talent.
Opening with the impressive 'Think It's Gonna Rain All Night' Joe immediately impresses with some tough repeated licks and searing slide work plus a great hook that is reminiscent of Bonamassa meets early career Kenny Wayne Sheppard. He further stretches out working a sumptuous tone on the smouldering blues ballad 'Why'd They Call It Falling' which embodies another catchy hook and finds room for one of Chick Churchill's characteristic expansive organs breaks.
If 'Falling' is a very American sounding blues inflected rock ballad, then the following 'She Needed a Rock' is an impressive slice of Southern rock that lyrically reworks the familiar theme of 'she needed a rock, he was a rollin stone' before Joe jams on the outro.
Not everything works quite works, however, notably on 'She Keeps Walking' which despite a nifty repeated guitar/keyboard double line never quite escapes its plodding chorus. But on the whole the pros outweigh the cons and the band really hit a groove on the cool and very radio friendly rock ballad 'I Never Saw It Coming. This tale of a relationship break-up is the stuff of late night FM radio, assuming that medium still exists. Either way it is a great song on which Joe provides the perfect vocal and digs deep with some intuitive mellow playing. He also adds some tough vibrato and intense note clusters alongside Chick Churchill's muscular keyboard organs riffs and Ric Lee's pounding drum patterns.
In fact such is the emphasis on songs that you have to wait until the closing brace of songs for a languid slow blues and a final slide led boogie outro.
'Evolution' isn't so much about Ten Years After without Alvin Lee as Ten Years After with Joe Gooch. The band is undoubtedly revitalised and if you haven't already discovered Joe Gooch yet, this album will surely impress. 'Evolution' is more than a compromise between the old and new as the core Gooch/Lyons song writing team carries the project to a successful conclusion. You can almost ignore the irony of the retrospective look over the shoulders for next years projected Woodstock anniversary tour!
****
Review by Pete Feenstra
---
| | |
| --- | --- |
| | Print this page in printer-friendly format |
| | Tell a friend about this page |