TEDDY THOMPSON A Piece Of What You Need Universal (2008)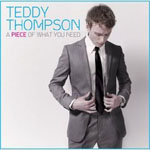 Another rock sprog - this time the son of Richard and Linda Thompson. And we've had the debate before in the GRTR! office - how many of these offspring would have 'made it' (and I use those words advisedly) without growing up with one foot in the industry and the door open to the 'right' connections?
Teddy paid his dues in his father's band for the best part of the nineties before releasing his eponymous debut in 2000 which received critical acclaim (surprise, surprise) but limited commercial success (less surprise). And it was 2005 before he decided to release the follow up Separate Ways featuring more rock sprogs - Rufus and Martha Wainwright. Again, more critical acclaim, but again no mainstream breakthrough. And same again with album #3 - Up Front & Down low.
A Piece Of What You Need is likely to have the same fate. It's a perfectly good record - reasonable songs, well played and performed and it does what it says on the can. But I don't get it. Just as I don't get Rufus and Martha Wainwright who I think are both hugely overrated. Or for that matter Ed Harcourt. It's pleasant in a rather serious songwriter sort of a way, and no doubt fans of the genre will lap it up. The media, rather predictably are over-hyping (the Guardian suggests at hints of Roy Orbison and Springsteen, which to be fair can be spotted in the vocals, but overall the songwriting lacks those artists' commercial savvy).
On the other hand, maybe major sales aren't the goal. It's hard to explain, but it isn't the sort of album you expect a young gun to make. But maybe that's what comes with being a rock sprog.
***
Review by Pete Whalley
---
| | |
| --- | --- |
| | Print this page in printer-friendly format |
| | Tell a friend about this page |