SYLVAN Posthumous Silence - The Show
ProgRock Records (2008)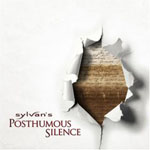 A 10th anniversary show of their concept album 'Posthumous Silence', a story based on a man getting to really know his daughter for the first time by reading her diaries ... after she has committed suicide. This is done well in the lyrics and music and avoids becoming too mawkish or cloyingly sentinmental. Marco Glühmann's vocals suit the tone perfectly and the band ably recreated the studio sound in a live setting. There are plenty of instrumental interludes which seemlessly link each song together plus giving a chance for the band to show off their musical prowess.
The second disc (which all bar 'Artifical Paradise') features songs from the bands other albums and these are not on the accompanying DVD release 'Leaving Backstage'. Highlights on here include the superb 'Lost' and 'Ecounters', although sadly no 'For One Day', a personal favourate of mine from their last album. Sylvan have the knack of penning tunes with strong melodies that will appeal to a wide audience plus having enough musical variety/time changes/solos to keep the more demanding porg rock fans happy.
An excellent live CD with exceptional live sound as you'd wnat and expect on a release like this. If you have yet to experience this wonderous band jump in here and enjoy!
****½
Review by Jason Ritchie
---
| | |
| --- | --- |
| | Print this page in printer-friendly format |
| | Tell a friend about this page |
***** Out of this world | **** Pretty damn fine |
*** OK, approach with caution unless you are a fan |
** Instant bargain bin fodder | * Ugly. Just ugly
get ready to rock is a division of hotdigitsnewmedia group