STRAPPS Live At the Rainbow 1977 Angel Air SJPCD253 (2008)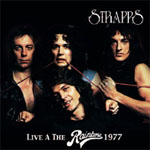 Timing can often be more crucial, even over ability, in determining whether a band will make it or not. "Strapps", a four piece classic rock outfit featuring Ross Stagg on guitar and lead vocals and also future Gillan drummer Mick Underwood possessed plenty of ability it seems but in launching their assault on the rock world unfortunately lacked timing, coinciding as it did with the rise of Punk. Despite four albums between '76 and '79 they failed to breakthrough, yet on the evidence of this previously unreleased in-concert performance there is a solid rock band awaiting rediscovery.
Workmanlike classic rock with clear influences by way of Zeppelin, Deep Purple and even Bowie on occasion there is plenty of impressive guitar work and some occasionally dominant keyboards too hinting that they probably just lacked the killer song required to get attention, despite some high profile support slots. There's a strong live presence demonstrated immediately on opener "The Pain Of Love" despite the recording being in mono form only. The long medley of "Violent Love/Secret Damage" also impresses as the Purple/Gillan similarities really show, whilst the strictly un-P.C. finale of "School Girl Funk" is perhaps recorded proof of some sexism accusations mentioned in the cover notes and evident on the band album covers too.
If you're already aware of Strapps then chances are you'll want this live CD anyway, additionally perhaps thanks to three extremely impressive studio alternate mixes included as bonus tracks. If like me, they've passed you by so far, then selling for under a tenner this is a fine way of checking them out. It's certainly convinced me to seek out more by them.
***½
Review by Bill Leslie


£12.99
The Pain Of Love
© 2008 Angel Air Records. All rights reserved.
---
| | |
| --- | --- |
| | Print this page in printer-friendly format |
| | Tell a friend about this page |