THE SPLIT KNEE LOONS Loon Knee Tunes
Angel Air SJPCD262 (2008)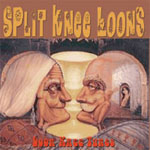 For those in the know, this is an amusing collection of demos, outtakes and six tracks from the Special Collector's EP, the band's sole release. An essential part of the Gillan catalogue.
To those not in the know, it could easily be hilarious, irrelevant, drivel or just plain strange.
The Split Knee Loons were, basically, Gillan without Ian Gillan, the band filling studio time under pseudonyms and swapping instruments. Pianist Colin Towns, aka Cosmo Toons, was the only one to continue on his own instrument, to keep some cohesiveness.
John McCoy would take on guitar (Arthur Guitar) and drums (Stix Hoypolloy), and Bernie Torme over to bass (Ernie Orme), and engineer Chas 'Wah Wah' Watkins would be involved too.
From inane banter, including a radio interview between Arthur and Cosmo, there's 'Man', a barbershop quartet track, to the classic take on 'Mutually Insured Third Party Fire And Theft'.
Manic, all over the place, and definitely very amusing. Tracks from the EP include the aforementioned MITPFT, and covers of 'Let's Dance (In Dub)', 'Runaway' (deliberately even more over the place and on speed) and the crazy 'Salute To The Vikings', with completely p*** taking level of backing vocals.
Samson's 'Vice Versa' is reworked as 'She Was A Real Egg Timer', recorded live in Liverpool.
'Theme From Mr. And Mrs' is padded cell lunacy at its most McCoy.
The psychiatric treatment finishes with 'The Harry Lime Theme', which closed the 'For Gillan Fans Only' set.
One for the collection, definitely.
4/5 or 1/5, depending on beer consumption.
Review by Joe Geesin


£12.99
A Live Broadcast from the Divine Church of Weedonology
© 2008 Angel Air Records. All rights reserved.
---
| | |
| --- | --- |
| | Print this page in printer-friendly format |
| | Tell a friend about this page |