SOUL SECRET Flowing Portraits
Prog Rock Records (2008)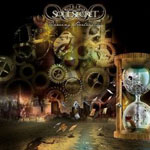 To my ears, Italy is producing some of the better progressive metal around at the moment and this is no exception. Take yourself back to the Dream Theater sound of the mid-nineties and you're in the same ballpark as Soul Secret.
Mastered by Threshold's Karl Groom, unbelievably, this well structured, highly polished album is the Italian 5-piece's debut album and one I recommend everyone should check out.
Registering just over 51 minutes, Flowing Portraits contains a mere 6 songs with the splendid epic finale of Tears Of Kalliroe accounting for around a third of them. So prepare yourself for extended instrumental sections containing masses of complex playing, fantastic vocals, guitar solos to die for, explosive drumming, symphonic orchestrations and blasts of rampant riffing.
Further reference points are vocalist Mark Basile similarity to James LaBrie, nowhere more so than on Inner War, a track that could quite easily have fallen off Dream Theater's Awake album. Whilst Learning To Lose is reminiscent of Rush in their heyday.
Progressive metal certainly has a bright new star to cherish, this is without doubt an absolute must have for every fan of this genre.
****
Review by Dave Hunter
---
| | |
| --- | --- |
| | Print this page in printer-friendly format |
| | Tell a friend about this page |