THE SONS OF BUENA VISTA Wienerworld 15861-2 (2008)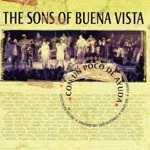 Standing unashamedly in the shadow of the marketing blitz that was Wim Wenders film, 'Bueno Vista Social Club, 'The Sons of Buena Vista' attempts update the traditional music of Cuba by bringing together the children and grandchildren of the previous generation alongside a few veterans to fuse the traditional with the contemporary.
In many respects this has been an overdue project waiting to happen, but whereas the fiction of the Wenders film utilised Ry Cooder's musical research of traditional Cuban musical forms, this 'The Sons of Buena Vista' is something of a stylistic departure. Certainly the CD might have been more accurately titled 'The Sons & Daughters of' as there is a cross section of both sexes as well as generations. And in the hands of old fashioned crooners such as El Nene, the traditional style of Cuban music is in safe hands.
More interesting perhaps is the meeting of vocalist Luis Frank with Overquis Reve on the meditative 'El Congo Del Congo'. The essential Afro Cuban feel and insistent 'call and response' techniques fire up the impressive pairing to great effect.
On 'Saboreando' featuring Annalays Serrano Lazo the dramatic piano intro gives way to a more radio friendly Latino groove featuring the trumpet as lead instrument. The Son influenced 'Chan Chan' is the album highlight with all 6 vocalist taking turns to flesh out the verses in an unlikely melange of synth inflected Cuban rap.
Mention must be made of the excellent musicianship throughout with for example, the excellent pianist Roberto Carcasses alongside on El Nene's clear diction and wonderful rolling 'R's on 'Fiebre De Ti'. There are also some inventive staccato piano lines and studied bass parts underpinning the honeyed voice of Maria Elana Lazo.
If there's a weakness in this compilation it is simply that the old traditional styles remain strongest whereas the inclusion of occasional synths lines and as on the closing track 'Entre Tu Y Yo', a horrible electr ic guitar solo, there's a danger of pastiche.
Interestingly the more updated use of Rap formats to deliver some vocal lines in a traditional format work much better, suggesting that Cuban music's historic lineage is strong enough to move into the realms of the contemporary without diluting the essential tenets of rhythm, passion and real emotion.
'The Sons of Buena Vista' is by no means a total success but there plenty of enjoyable moments along the way in what is an interesting and bold step forward.
****
Review by Pete Feenstra
---
| | |
| --- | --- |
| | Print this page in printer-friendly format |
| | Tell a friend about this page |