Just witnessed your best live gig?.. send us a review!
SIMPLE MINDS
Manchester MEN, 27 November 2008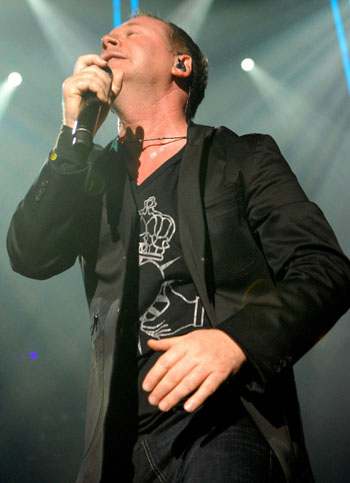 30 years is a long time in any job, so the "30 Years Live" tour stands as its own testament to the success of Simple Minds.

Very few bands can proclaim to be in their 4th decade of making tunes and in Simple Minds back catalogue you can hear many genre spanning tracks. From the post punk fallout of the original "Johnny & The Self Abusers", through the trance/dance early 80's era into the bombastic stadium rock of the late 80's, Simple Minds have covered it all.

After seeing them on the 2006 Black & White tour in the relatively small Newcastle Carling Academy, it was with some trepidation that I bought tickets for the 15,000 capacity MEN Arena. Could they still fill it, did they still have what it takes to sell and play these ambitious venues? The deal clincher for me was the announcement that they'd be playing fan favourite 1982 album "New Gold Dream" in full!

Support band Deacon Blue did an excellent job of getting everybody warmed up and by the time they'd finished it seemed my worries were unfounded – only the seats at the very back remained unfilled.

So onto the main event, would they play New Gold Dream first or as a second set? My question was soon answered as the lights went down and the opening thumping bassline of Waterfront heralded the arrival of Jim Kerr. What a start!

The opening set went through a number of tracks from their early career such as "Love Song", 1979 single "Chelsea Girl" with long time drummer Mel Gaynor on vocals, and "Factory" which Jim dedicated to Manchester born Factory Records founder Tony Wilson.

Mandela Day got an airing, maybe I'm a bit cynical but as much as it was a hit surely it's time to move on from this track? Mr Mandela has been free for the last 18 years and it doesn't feel particularly relevant anymore!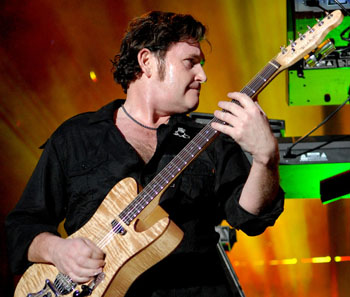 After approximately 40 minutes of tracks spanning 1979 - 1995 Jim casually announced it was time to play NGD. Having had this album on almost constant play when it was released but never seeing the tour in 1983 it was a dream come true.

In retrospect it's unashamedly 80's. Very synth & bass heavy, but the sound was crystal clear, the lighting fantastic and the music I grew up listening to in my bedroom back in 1982 came alive in spectacular style, akin to a pulsating underground club in the early 80s.

If they'd have finished then I'd have gone home a happy man but more was to come. Without pausing for breath the band went straight into "Up On the Catwalk"

One of my all time favourite tracks "Belfast Child" made the following set, along with "Don't You (Forget About Me)" which got all the fans on their feet and "la-la-la-laaing" along.

A final encore of "Sanctify Yourself" & yet another stadium rock classic "Alive & Kicking" finished the show with everyone singing along and on their feet for a standing ovation.

It was the opening show of the tour and rapturous applause was a great way for founder member Charlie Burchill to celebrate his birthday.


30 Years Live & (still) Kicking!

Review by Darren Moore
Photos by Lee Millward
Full Setlist:


Waterfront

Speed Your Love To Me

Love Song

Mandela Day

Factory

Chelsea Girl

See The Lights

Hypnotised


-----

Someone, Somewhere (In Summertime)

Colours Fly & Catherine Wheel

Promised You A Miracle

Big Sleep

Somebody Up There Likes You

New Gold Dream (81,82,83,84)

Glittering Prize

Hunter & The Hunted

King Is White & In The Crowd


-----

Up On The Catwalk

Don't You (Forget About Me)

All The Things She Said

Belfast Child


Encore

Sanctify Yourself
Alive And Kicking

---
| | |
| --- | --- |
| | Print this page in printer-friendly format |
| | Tell a friend about this page |