THE SIMON HOPPER BAND The Less Blessed
Control Shift Music (2008)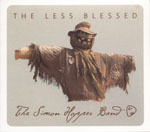 Second album from this accomplished singer/songwriter and one for fans of Fairport Convention. Like Fairport Simon Hopper's songs cover modern themes and issues wrapped in simple but effective folk rock backing. Take for intsance 'Lammas Leaves' which deals with last year's floods here in the UK and 'The Farmer' which looks at the decline in farmers as their offspring go into better paid jobs and careers. He doesn't hold his punches either as a listen to 'The Terrorist' shows. One song that just doesn't gel with me is 'Backwards Man' which is fine until the slightly out of tune chorus – it grates on these old ears!
Top notch music to match the lyrics including multi-instrumentalist Andee Price who plays amongst other things bouzouki, mandolin and bass. The fiddle and whistle playing of Ramona Egle adds greatly to the musical mix as well.
Perfect for Fairport Convention fans and even Simon Hopper's storytelling vocal delivery is very simialr in parts to Fairport's Simon Nicol. Much to enjoy on here and an album that will have you coming back again for more.
****
Review by Jason Ritchie
---
| | |
| --- | --- |
| | Print this page in printer-friendly format |
| | Tell a friend about this page |
***** Out of this world | **** Pretty damn fine |
*** OK, approach with caution unless you are a fan |
** Instant bargain bin fodder | * Ugly. Just ugly
get ready to rock is a division of hotdigitsnewmedia group