SIGN OF ONE Innerlands Unicorn Records (2008)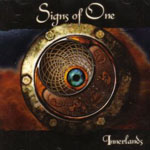 This is the second album by the Canadian progressive rock band and their first release on the Unicorn label. Where as fellow Canadians Rush merge a unique progressive sound with facets of Zeppelin et al, Sign Of One's latest album is too long-winded and almost indigestible.
Evidently they are a talented band but much of 'Innerlands' is unfocused with only random moments of excitement. There are some melodic moments and excellent use of the piano but after a few repeated plays the album becomes fairly dull.
The production by Serges Samson is good but considering the amount of competition in the genre a bigger, sturdier production would have sufficed. At 71 minutes long it is almost the length of an average feature length film so it can be quite exhaustive.
'Frantic Memories' and 'Rainbow Elves' have moments of clarity and inspiration.
It's not a bad album at all and it sounds like I'm being too critical but if Sign Of one are too make a bigger splash in the genre they need to improve on some things. For fans of prog rock 'Innerlands' is definitely worth a listen but don't expect an instant classic.
***
Review by Neil Daniels
---
| | |
| --- | --- |
| | Print this page in printer-friendly format |
| | Tell a friend about this page |
***** Out of this world | **** Pretty damn fine |
*** OK, approach with caution unless you are a fan |
** Instant bargain bin fodder | * Ugly. Just ugly