THE SEVENTH POWER The Seventh Power
(2008)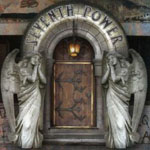 The Seventh Power is a band fronted by Bill Menchen (guitarist for both Titanic and Final Axe). All drums were performed by 'Stryper's Robert Sweet. Robert references this album as containing some of his most accomplishment work to date. (This is basically, a side project from Final Axe.)
Are you a fan of 'Ozzy Osbourne'? Yes? Then you'll like this album. You would actually hear this album and think it is in fact 'Ozzy'. It even yelps slight sounds of 'Zakk Wylde' guitar solos.
I am actually deeply enthralled with this album. The digital mastered sound quality was well worth the time spent. Fans of doom will be bludgeoned to death and will most certainly be compelled to turn the volume up to 'number 11'. Loud, dirty, metal riffs and Robert was right, his drumming is most certainly an accomplishment to recognise. However, music is played with feeling and all this digital mastering can spoil the atmospheric sweetness of what rock/metal is all about.
I am not a religious person, so I was a but dubious what this album would be like when someone is singing about 'Christ' and 'Heaven', but words are words after all; this surely doesn't deter me from listening. I am deeply mesmerised by the doom sounds and imagining myself in 'mosh pit' madness for a live show. Those of you offended by religion may find the vocals a little hard work, but have an open mind please; this album actually kicks arse and I challenge 'Seventh Power' to get in a wrestling ring and battle 'Ozzy' into submission.
My only gripe with this album, would be the extraordinarily annoying track "Ocean of Emotion Motion" - it's pointless, repetitive and just churns out the track title over and over again like some kind of old broken record and would be my only reason to knock .5 off the score for the pure stupidity of writing it.
Definitely worth a buy for you Heavy Metal fans out there.
****½
Review by Fluffmeister
---
| | |
| --- | --- |
| | Print this page in printer-friendly format |
| | Tell a friend about this page |