SAMURAI Samurai Esoteric (2008)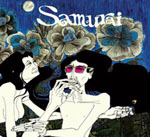 The band was short-lived, the label tiny, the result destined for obscurity. Yet Sumarai's 1972 sole outing (on Greenwich Recordings) in well-executed keyboard and horns dominated progressive with jazzy flavourings is a heartening reminder that there are still pleasures to be found in rock catalogue's backwaters.
While the compositions don't quite match the playing and production values, the album maintains above-average levels of quality overall. It was fickle and even peremptory to disband so quickly; nonetheless Dave Lawson moved swiftly on to greater commercial success with his fellow ivories tinkler and namesake in the more mainstream Greenslade. Listen to its highly acclaimed early output and hear the stylings of Samurai.
***
Review by Peter Muir
---
| | |
| --- | --- |
| | Print this page in printer-friendly format |
| | Tell a friend about this page |
***** Out of this world | **** Pretty damn fine |
*** OK, approach with caution unless you are a fan |
** Instant bargain bin fodder | * Ugly. Just ugly
get ready to rock is a division of hotdigitsnewmedia group