A decade of costume changes chronicled...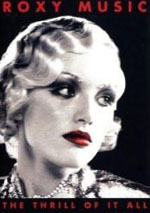 Formed in 1971 by Bryan Ferry, Andy Mackay and Brian Eno, Roxy Music almost single-handedly defined 'art rock', bursting onto the music scene with a slew of excitingly original singles, top-selling albums, and eye-catching performance.
The grainy, lip-synched footage of the chaps, Eno already resplendent in boa and feathers, live at the Royal College of Art in '72 is relatively restrained, tentative even, but the pace gathered swiftly for resultant glammed-up forays into period Brit music TV: Whispering Bob's OGWT, Mike Mansfield's Supersonic (hilarious) and silly old Top Of The Pops.
The need to be seen as well as heard doing something different prompted above average churn in the costume dept. adding to the fun no end. Mackay is a cross between an alien and a fly; Eno, a camp Riff Raff; meaty drummer Paul Thompson distinctly uneasy in a leopard-skin; while Ferry works his way through rock 'n roll T-shirt 'n jeans, GI uniform (with eye patch), the famous crooner's white tux and, on the second of this 2 disc set, suits of red leather and silk, the camera lingering longingly on the pale grey eyes, the Cartier watch.
The hits are present (Love Is The Drug, Pyjamarama, Do The The Strand, Virginia Plain, Angel Eyes, Jealous Guy, Dance Away) complemented by highlight faves from the set lists of the day. If the TV material is perhaps a tad self-knowing, any whiff of contrivance is blown away by the live material, notably from Germany's Musikladen 1974 TV show and a concert in Stockholm two years later, affirming the band's reputation for tough, proficient stagecraft.
Roxy in the '80s were slicker, more polished and mechanical, showing some compromise in the trademark innovation of the previous decade as the safe money rolled in (see also Genesis). Nonetheless this 10-year career overview is solid entertainment. Whilst they may have been in thrall of the dressing-up box, The 'Thrill Of It All' measures the substance of Roxy Music equalling the style. Recommended.

****
Review by Peter Muir