RORY GALLAGHER The Essential Capo/Sony/BMG (2008)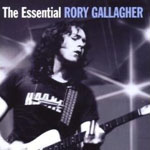 A casual observer might think that Sony/BMG have some cheek releasing another 2-CD set so soon after 2005's 'Big Guns'. However, 'Essential' has been carefully compiled so there is very little duplication.
The key period was always the seventies and in particular Rory's live work, and this collection includes 'I Could've Had Religion', 'Bullfrog Blues', 'As The Crow Flies' and 'Tattoo'd Lady' from the two defining live sets, Live In Europe and Irish Tour '74.
We also get 'Brute Force & Ignorance' from 1980's 'Stage Struck' but those wishing to sample more would be better served with the 2001 boxed set 'Let's Go To Work' which collects together all his key live output.
The later period was characterised by a recording hiatus after 1982's 'Jinx' and the omission of any tracks from 'Jinx' seems to be compiler's preference rather than anything more sinister. There are also two tracks from 'Wheels Within Wheels' (released in 2003) to demonstrate the guitarist's breadth - although his acoustic work is well-known to the faithful and also documented on several DVDs.
New listeners might be better served by 'Big Guns' as it is arguably more accessible and representative as a career overview, and it includes tracks with his first band Taste as well as unreleased material. As a further reminder of an influential and much-missed musician - who would have been 60 on 2 March - this new collection is acceptable if not quite essential.
***½
Review by David Randall
---