ROCKY ATHAS' LIGHTNING Lightning Strikes Twice ARMD0024 (2008)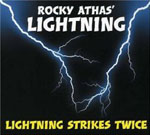 While it's always a pleasure to review a new Rocky Athas album 'Lightning Strikes Twice' is a retrospective release and something of a gamble. Having made his mark with two fine albums on Armadillo in the shape of 'Miracle' and 'Voodoo Moon', this CD steps back into the late 70's when Rocky was still a local hero in Texas and Lightning were one of that state's hottest bands without a record deal.
Their big break turned out to be a damp squib as the feted Capricorn records hit the wall just after Lightning signed with them, and a fast track career suddenly ground to a halt.
The gamble here is that those not familiar with Rock's later work might mistake this CD as his current output. In many ways 'Lighting Strikes Twice' (a cleverly punned title) sets the record straight as on the evidence of these 15 tracks Lightning were indeed a tasteful and well honed outfit. And yet pushing aside the twenty plus year time gap, you still have that nagging feeling that, competent as the material is, it wasn't quite strong enough for the band to break through.
Indeed not only that, but its isn't until three quarters of the way through the set when Rocky portentously teams up with future song writing partner and vocalist Larry Samford, on both 'Home Again' and 'Big D' that the project really hits base. And the reason is two fold.
Firstly there is Larry undoubted vocal presence and secondly the fact that Rocky stops hiding his guitar playing talent under a bushel and steps out in his own right. Prior to this brace of tracks Rocky is all taste and subtlety with some lovely slide playing on 'Sanity' and long linear lines on 'Survival' and he even adds a welcome touch of wah wah to the instrumental ode to his old school friend Stevie Ray - hence the title 'To My Friend (SRV)'.
But if anything there's too much restraint and perhaps not enough cutting edge to the Athas/Walter Watson song writing partnership. Listening to the material in hindsight it's almost as if the duo got caught up in that mid 70's thing of not wishing to overstay their welcome with solos and as a result they tried too hard to concentrate on songs.
As it is Rocky later teamed up with Larry and developed the core of his excellent current band. As such this album is a reminder of a work in progress and an unfinished step along the way, worth investigating certainly but only in the context of what has been released since.
***1/2
Review by Pete Feenstra
---
| | |
| --- | --- |
| | Print this page in printer-friendly format |
| | Tell a friend about this page |