A spanking good clip collection...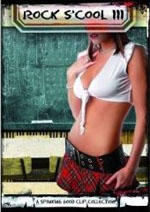 German label SPV have a huge rock and metal roster, and therefore can put out what is effectively a series of label samplers under the banner of a damn good rock compilation. That they do, but because of the strength of some of the catalogue, they can get away with it.
The main feature is 24 promotional and live videos which kicks off with Whitesnake's "Lay Down Your Love", good modern 'Snake rocker. If you can stomach the American polish, it's as good as they get.
Type O Negative play at power ballads with "September Sun", looks and sounds odd, but Iced Earth pick up the pace with "Ten Thousand Strong", a good animated video too.
Then the first real highlight - Saxon's "I've Got To Rock To Stay Alive", a live video featuring Motorhead's Lemmy and Rose Tattoo's Angry Anderson.
There's some top power metal with Helloween, Kamelot and Moonspell, the latter a touch of prog metal too. Kreator's "Phobia" is a fine slab of Hate Metal that'll keep thrash fans happy.
Some fine metal with Gamma Ray, Hatesphere and Engel, but the creative director for Hatesphere's video to "Floating" wants kneecapping. The very slow motion headbanging shots look just like a hair conditioner advert. Another Saxon single is next up with the anti gun/knife crime song "If I Was You".
Another highlight, and something that makes the whole DVD worthwhile, is Rhapsody's "Magic Of The Wizard's Dream". The operatic melodic power metal band recorded this ballad for the 'Symphony Of The Enchanted Lands 2 The Dark Secret' album, rerecorded here for single release, as a duet with Christopher Lee. The flute opening builds to a strong track, and shots of band with Lee in front of an orchestra are well worth checking out. More Moonspell, and then Sepultura and Amplifier.
Henry Rollins proves the metal poet and social commentator on the tribal banging of "Your Number Is One", although it's hard not to snigger at some of the grimaces.
Saxon's "Lionheart" is one of the more anthemic tracks here and top track too.
A real let down is Zebrahead, more chirpy indie guitar pop than anything else and, aside from just being rubbish, really looks out of place.
Riverside's ambient "Panic Room" equally feels out of place. The set closes with Symphony X and Unleashed.
Some very good, very bad and very ugly, but something to suit all.
The bonus is a discography of all the albums available on SPV by the bands here, where you can click through and hear 30 segments of each track on each album. A nice touch, a good sampler. But the problem, or should I say huge f**k up , is that while you can access it from the main menu, the main feature doesn't allow you to return to the main menu at any point, and even starts from the beginning when you get to the end. I had to eject and reinsert the DVD to get back to the main menu.
There is something for every rock fan here, as a fun listen / watch, and some of the videos will please collectors too.
At least the booklet tells you which albums the tracks came from. The music is an enjoyable mixed bag, but the programming error and the lack of any on screen note to tell you who's who (very few will be that familiar with everyone on the DVD) do let the package down.
***½
Review by Joe Geesin