REVOLUTION RENAISSANCE New Era
Frontiers (2008)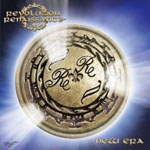 With the split of Stratovarius guitarist Timo Tolkki wanted to release this set of songs quickly and gathered together three vocalists to help him out - Michael Kiske (ex-Helloween), Tobias Sammet (Edguy/Avantasia) and Thunderstone's Pasi Rantanen. The plan is for a permanent line-up to be formed for this band although no details as to who will be in the band.
Musically fans of Stratovarius will be pleased as this mixes some rollicking power metal romps like 'Heroes' (Tobias Sammet handles vocals on this one) through to slow building ballads like 'Angel', which features Michael Kiske on vocals. In fact Kiske steals the show on here with his vocal delivery and it is much more rewarding a listen than his latest solo outing that's for sure.
Variety is also another key element with 'Keep The Flame Alive' features woodwind and harp and again Michael Kiske takes centre stage. 'We Are Magic' featuring Pasi Rantanen on vocals is a cracking tune with an extremely catchy riff. Timo as you would expect fills the album with suitably impressive solos but credit to him as he never sacrifices the melody for a solo. Another difference with Stratovarius albums is that the keys are not used as much save for the more epic tunes such as the title track.
A very strong album with some top vocal performances and lots of music to enjoy. Hopefully this will pan out into a fully fledge band and Timo should sign up Michael Kiske on a permanent basis based on his performances on here.
****
Review by Jason Ritchie
---
| | |
| --- | --- |
| | Print this page in printer-friendly format |
| | Tell a friend about this page |
***** Out of this world | **** Pretty damn fine |
*** OK, approach with caution unless you are a fan |
** Instant bargain bin fodder | * Ugly. Just ugly
get ready to rock is a division of hotdigitsnewmedia group