REO SPEEDWAGON Ridin' The Storm/Lost In A Dream
BGO Records (2008)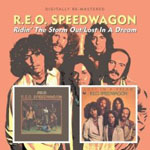 Albums number three and four from the band who had changed vocalist again with Kevin Cronin having left (although his song 'It's Everywhere' made the 'Ridin' The Storm' album) and Mike Murphy as the replacement. He sang on these two albums and the next one before Kevin Cronin came back again and the band entered their most successful phase of their history.
Musically the band are not like the 80's AOR beast and more like a typical 70's mid-west rock band – songs like 'Oh Woman' and 'Throw The Chains Away' you could easily see gracing a Bob Seger album.
'Ridin' the Storm' out featured two covers, Stephen Stills 'Open Up' and album closer 'Without Expression' penned by Terry Reid. Both are decent versions but I'll admit I am not a lover of Mike Murphy's vocals as he seems to struggle at times in the higher ranges.
Guitarist Gary Richrath makes a rare vocal lead on 'Find My Fortune'. 'Lost In A Dream' carries on in sound and style with 'Throw The Chains Away' and 'They're On The Road' stand out songs. Otherwise it is pretty standard fare and only fans of the band would really like this album.
Nice to have a proper European CD release for these early albums although fans of the late 70's onwards version of the band won't recognize the sound bar the guitar and keys/organ interplay between Gary Richrath and Neal Doughty. For collectors and die hard fans only.
***
Review by Jason Ritchie
---
| | |
| --- | --- |
| | Print this page in printer-friendly format |
| | Tell a friend about this page |
***** Out of this world | **** Pretty damn fine |
*** OK, approach with caution unless you are a fan |
** Instant bargain bin fodder | * Ugly. Just ugly
get ready to rock is a division of hotdigitsnewmedia group