RAY RUSSELL A Table Near The Band Angel Air SJPCD258 (2008)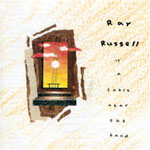 Guitarist Ray Russell has long been precipitously balanced on that thin dividing line between fusion and its ugly cousin freeform jazz. His place in the ranks of guitar players has long been guaranteed by those in the know but for much of the general public he remains a major talent yet to be discovered.
For a guitarist, composer and producer who has worked with everyone from Tina Turner, Gary Moore, Frankie Miller, Bryan Ferry and Phil Collins to American Jazz Rock pioneer and Miles Davis arranger Gill Evans and the groundbreaking Nucleus, let alone providing the music to TV series such as 'A Touch of Frost,' Ray is still surprisingly a major talent in search of just a little more spotlight.
Perhaps 'A Table Near the Band' might help, finding Ray in the company of an inspirational line-up including Tommy Ere keys, Tony Hymas bass/keys, Mo Foster bass and Simon Phillips drums, born of his brilliant appearance at the 1988 Montreux Jazz festival.
The core line-up is supplemented by the twin saxes of Ian Bellamy and Tony Roberts and trumpeter Stuart Brooks plus an archive session with Gill Evans Whether in the company of Evans on the sonorous soprano led, fusion driven 'London Revisited' or the seamless cool and mellifluous piano, trumpet and guitar interlude of 'Avian' - all superbly underpinned by the intuitive fills and restless energy of drummer Simon Phillips - this is easily one of Ray's best ever compilations.
On the gentle funk of 'No Step', keyboard player Tommy Eyre is a revelation neatly switching from synth to piano before Ray adds some searing fluid guitar lines leading the ensemble into some fine band interplay in between the synth led theme. Eyre further solos elaborately on the humorously titled 'In Search of Aliens', the true meaning of which may or may not be discovered in the accompanying mix of surreal, humorous, ironic and almost poetic explanatory notes from Ray.
The notes don't always necessarily elucidate the title but the music makes up for any semantic eclecticism. And what beautiful music it is, from the opening funky Latino lines of 'Guadeloupe', which includes the 'Don't Stop The Carnival' melody line to the inspired expansive solo's as each band member is accorded enough room to fill the spaces with a delightful mixture of tonal textures.
On the ascending lines of 'Aliens' there's a beautiful confluence of sax, keys, guitar and the perfect crisp rhythm section before Ian Bellamy's tenor takes the piece forward. His pithy solo is neatly offset by a further collective instrumental sweep before an elongated note draws the piece to a close.
There's still time for a gentle duet with Tommy Eyre on 'Snow (a passing Phase)' which provided the core to the movie sound track 'Colorado' and the slightly introspective fusion led title track.
All in all 'A Table Near The Band' is a great reminder of a major talent too often overlooked when it comes to the pantheon of great guitar players, but finally well represented by this welcome reissue.
****
Review by Pete Feenstra


£12.99
© 2008 Angel Air Records. All rights reserved.
---
| | |
| --- | --- |
| | Print this page in printer-friendly format |
| | Tell a friend about this page |