Just witnessed your best live gig?..send us a review!
RASCAL FLATTS
100 Club, London, 29 January 2008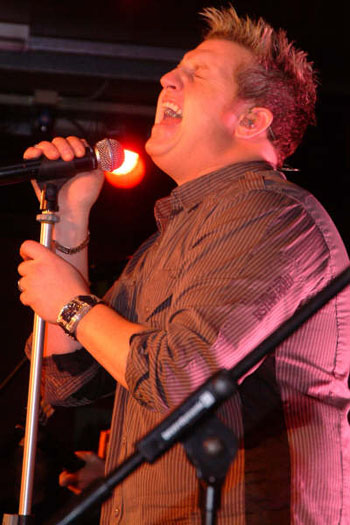 Gary Le Vox (Photo: Noel Buckley/GRTR!)
Rascal Flatts know the value of traditional song structures. From the close knit three part harmonies to the sweeping choruses and neat instrumental breaks this 6 piece outfit offer something for everyone. And on this their UK debut showcase at London's 100 Club the band made the most of both their opportunity to break a new territory as well as making the most of venue's very wide stage.
The drummer stage right and keyboard player - crammed in on the far left in semi-darkness - can rarely have played a gig so far away from each other. But such was the confidence of this well drilled road band that any such inconveniences were never going to get in the way of putting on a totally professional show.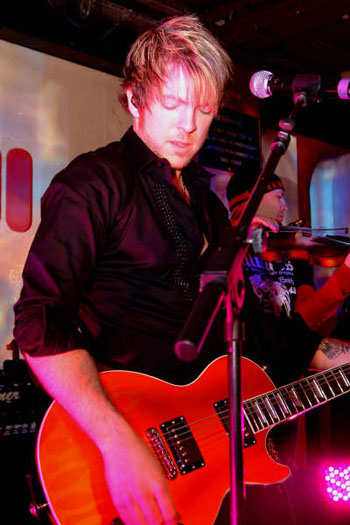 Joe Don Rooney (Photo: Noel Buckley/GRTR!)
Of course it helps to realise that the core of the band were the three figures of vocalist Gary Le Vox, bassist Jay De Marcus and guitarist Joe Don Rooney who for the most part made the right moves, delivered effortless harmonies and by turns thanked, waved at and applauded their enthusiastic audience.
In truth there is much to admire in a band that has already shifted millions of units and concert tickets across the Atlantic and garnered bucketfuls of awards including a Grammy for Best Country song. The purpose of tonight's exercise was to kick start a push into a new territory and given the high proportion of enthusiastic whooping women at the front it seems Rascal Flatts have already made some headway in the UK marketplace.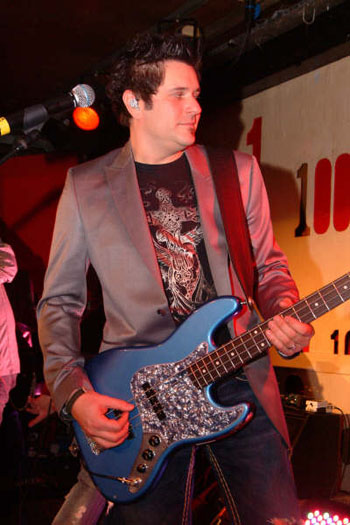 Jay DeMarcus (Photo: Noel Buckley/GRTR!)
This is not surprising given the band's crossover appeal that is firmly embedded in their Nashville roots, right down to their stage apparel and busy fiddle player. But Rascal Flatts are more of a musical juggernaut than a recidivist country outfit, who focus on a much bigger MOR appeal.
Thus the single 'Take Me There' although moulded in a Country hue has an undoubted boy band appeal that will surely help sell them to potentially big audience over here. In frontman Gary Le Vox, Flatts have a singer who combines confident stage craft with a fine vocal range to bring a range of emotions to a not inconsiderable catalogue of songs.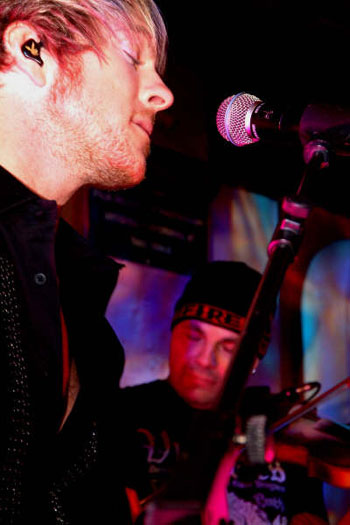 (Photo: Noel Buckley/GRTR!)
And given the fact the UK has in recent years have been swamped by a steady diet of mournful pop from Keane and Coldplay onwards, (let alone, whisper it, boy bands) Flatts look handily positioned to usher in the same sort of crossover appeal, albeit in a Garth Brooks meets Mavericks kind of way.
Each offering from the re-branded 'Rascal Flatts' album was tightly structured, full of strong melodies and for the most part with an accompanying pay off chorus. By the end of the night Le Vox had his younger fans jumping up and down and on leaving the stage took his time to sign autographs, shake hands and once again thank London and the UK for making them so welcome. They came, they saw, they crossed over and left.
Review by Pete Feenstra. Photos by Noel Buckley.
***
Album review
---
| | |
| --- | --- |
| | Print this page in printer-friendly format |
| | Tell a friend about this page |