QUICKSILVER MESSENGER SERVICE Various
Bear Records/Voiceprint (2008)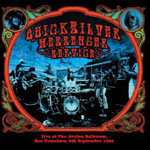 A series of official live bootlegs which will highlight the success of QMS, one of the most successful and important West Coast bands, alongside Jefferson Airplane and Grateful Dead. All three found success in the late 60s and early 70s, and perhaps more live recordings exist of these bands than most.
QMS's first album was very successful, and release in 1968, some 18 months after the first recording here.
Live At The Avalon Ballroom, San Francisco, 9 September 1966 kicks off with a radio commercial and then a 7 track set, a slightly muddy and tinny recording but still sounding damn fine considering the age. It shows just how close the band were to the finished product of a year or two later, and how tight they were too.
The cover of "Stand By Me" is OK, but a highlight is "Babe I'm Gonna Leave You" (a track covered 10 years later by Man, whose version I do prefer). There's another cover in "Smokestack Lightning" which adds a bit of blues to the set. No probs there, it's a good song and I don't think there's many (or any) bands who don't play a few covers in their early career. "Codeine" is another QMS classic and live staple.
Live At The Avalon Ballroom, San Francisco, 28 October 1966 recorded a month later, is a more haphazard recording (plenty of feedback) but shows some good songs. The set was continuously changing, but still present was "Smokestack" and "Codeine". The cover of "Runaway" sounds great and on fire, as was the recording deck judging by the poor quality.
1967 and the band were playing the Fillmore. The first set from that year here is a two disc set Live At The Fillmore, San Francisco, 4 February 1967, with much augmented and expanded set and much improved recording quality too. 19 tracks of live proto QMS enough to get any fan quivering. By this time much of the material of the first album was in the set, probably the second album too.
1968 and another 2 disc set, Live At The Fillmore, San Francisco, 4 April 1968 (2CD) better recorded, and a QMS much closer to the finished article most will know and love (or perhaps not). Again there's "Babe I'm Gonna Leave You" in a much improved form. And into jam territory, the tracks much expanded too. The second disc is just one track called "Jam", mixing blues, boogie, West Coast and everything else.
The band subsequently had more line-up changes than god knows what, and many reformations in different guises with many members either dead or missing.
This set of official bootlegs, of various quality, will remind you what the band were originally all about. Nicely presented, although the notes inside the 2-page booklets are all identical. Room for expansion there.
Essential for all West Coast fans, over the top for anyone else.
****½ (for fans)
**½ (for everyone else)
Review by Joe Geesin
www.joegeesin.com
---
| | |
| --- | --- |
| | Print this page in printer-friendly format |
| | Tell a friend about this page |