PUNCH BROTHERS Punch Nonesuch 7559 79982-8 (2008)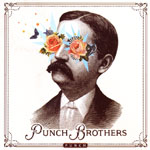 You might have guessed by his use of the label 'progressive acoustic' while with the commercially successful Nickel Creek that brilliant mandolin player and eclectic song writer Chris Thile had more on his mind than a country hop.
Throw in the Nonesuch label - the home of challenging experimental music - and a failed marriage and you have all elements for something startlingly leftfield.
And so it proves as 'Punch' by the Punch Brothers is anything but a biff on the nose and rather a musical dialectic, a hybrid of bluegrass inflected chamber music that by turns reveals different number of bewilderingly musically eclectic avenues.
Were it just the music that ebbs and flows, stops and starts and swoops in and out of sudden tempo changes ranging from the slow and sonorous to the lightning fast, then at least you would have something to grasp.
As it is, the lyrics of the core 4 part song-cycle and a handful of shorter songs deal with personal relationship narratives, confessionals and the neo religious. And given the line-up of Chris on lead vocals and mandolin, Chris Eldridge on guitar and vocals, Greg Garrison on bass and vocals, Noam Pikelny on banjo and vocals and Gabe Witcher on fiddle and banjo, it's a mutated form of bluegrass rather than alt. country that purveys most of the album.
That said the opening track 'Punchbowl' might well have come from some suitably warped alt. country combo like Blanche, especially given the dark edgy lyrics that remain a constant throughout. But Punch refuse to settle for easy musical options.
The main part of the album is made up of a four piece suite 'The Blind Leaving The Blind' on which Thile bears his soul and explores some stuttering musical passages born of an unsettling restless feel that thinks nothing of sudden violin swoops, incremental banjo runs and lighting fast mandolin playing. But each piece never stays in one groove long enough to tease out its resolution.
Just occasionally there's a conjoining of the music and lyrical intent, when on the second movement Gabe's sonorous violin evokes the theme of a relationship break-up. But even here just as Chris sings some beautiful emotive lines the music suddenly veers into a discordant angle, before some plucked strings lead into an apparent sudden fade, only for the music to be reborn again on the back of an unexpected violin line.
As a representation of the durability of the human spirit in adverse circumstances, he's hit bulls eye. Some of the playing on the third movement is astounding and though rooted in bluegrass and full of lilting bass lines and some wonderful mandolin playing acts as a metaphor for living life to the full, thus mirroring the closing lines the closing lines; 'cause lord I don't know why You'd give me so much life To live resigned to dying'
Like many of his songs the troubled narratives ponder both the micro and macro questions of our existence by way of several relationship songs. But 'Punch' is far from the doomy introspection of say Nick Cave, as the quite brilliant musicianship sees to that. There's even a semblance of a rock finale around the 8 and half minute mark of the third movement, but more generally each piece of the musical jigsaw is fleshed out by superlative little interplays between banjo, mandolin and fiddle.
There's plenty of improvisation, spontaneity and even traces of jazz, but the different styles are but musical conduits to revealing a bigger picture. And you can't help but think that even after this impressive outpouring Chris Thile has a lot more to say!
****
Review by Pete Feenstra
---
| | |
| --- | --- |
| | Print this page in printer-friendly format |
| | Tell a friend about this page |