PRIMITAI Through The Gates Of Hell
Green China Records (2008)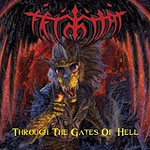 Thirty eight years on from the dawn of Heavy Metal (I take the point of departure as being the self-titled debut album by Black Sabbath), the genre seems pretty well intact with a couple of new generations stretching the music in different ways.
Primitai are part of the latest wave of Metal bands boldly trying to find their own way along a well trodden path. And it is to their credit that on 'Through the Gates of Hell' they manage to leave their personal stamp on the music, finding a niche somewhere between the twin elements of Speed and Death Metal and the musical anchor that remains forever Classic Rock.
Indeed strip away the dubious lyrics of say 'Lights Out' and the Death Metal growl that vocalist/lyricist Graham Christie brings to bear on hard rock outings such as 'War Cries' and the much more accessible rock that fleshes out the single 'Primitillian Man', and you have a Classic Rock band trying to get out.
This is a band that barely deviates from the Metal staples of a pile driving rhythm track, some fiery licks and obvious changes. But Primitai are a band who can seriously play, and on each of the nine tracks here they push both the songs and their own playing abilities to the limit.
Sometimes it works well as on 'Deathhammer' for example, where the hard driving rock, powerful riffs and high octane flurry of notes leap out of the speakers, while on 'Buried Alive', the relentless tempo and Christie growl pushes the band towards a Motorhead feel.
That said the regulation solos don't add to anything that has gone before and stand in strong contrast to the strong melody line of 'The Piper' - a number that is driven to its conclusion by some fierce playing.
For what is essentially a contemporary Metal album there are brief moments of light and shade, particularly when the twin lead guitars evoke Thin Lizzy. But really in spite of the posturing a song like 'Destroyers' is hard rock in Death Metal clothing'. Perhaps the single will help push the band more into the Classic Rock direction for as 'Through the Gates of Hell' suggests there's enough good playing and intense rocking here to satisfy a potentially bigger audience than Death Metal for example will provide.
***
Review by Pete Feenstra
---
| | |
| --- | --- |
| | Print this page in printer-friendly format |
| | Tell a friend about this page |