PLEASURE DOME For Your Personal Amusement Escape Music (2008)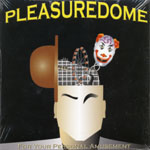 A new band/project that features the considerable vocal talents of Ted Poley (Danger Danger/Melodica) and three ex-members of melodic rock band Shotgun Symphony. Charle Clav (keys) and Ed Avila (bass) have worked with Poley before in Melodica. This band have had one song released on a MelodicRock.Com sampler as couple of years ago but this release marks their full debut.
But what of the music? Well it is a mixed bag of styles, after a short intro you get the in your face hard rock of 'Trapped'- agressive vocals, razor sharp riffing. Then the next song, 'One And Only' is pure melodic rock/AOR with its driving keys underpinning the sound and some wonderful harmonies on the chorus.
The album has some great ballads as well including 'Praying For A Miracle' which is the nearest song on here to the Danger Danger sound.
There are some leftfield songs though like the vaguely progressive rock leanings on 'Always Tomorrow' (the band really get to stretch out on this one) and '(Who Will) Save The World' that is a very enjoyable ballad. The only real drawback is that the album jumps through so many tempos/styles. Personally not a problem but fans expecting say an album of wall to wall Poley inspired melodisc rock may be disappointed in places.
Really hope this band/project gets to do a second album as there are plenty of interesting songs on here and they could travel in a number of musical directions in the future.
****
Review by Jason Ritchie
---
| | |
| --- | --- |
| | Print this page in printer-friendly format |
| | Tell a friend about this page |
***** Out of this world | **** Pretty damn fine |
*** OK, approach with caution unless you are a fan |
** Instant bargain bin fodder | * Ugly. Just ugly
get ready to rock is a division of hotdigitsnewmedia group