Lennon's post-beatles album revisited...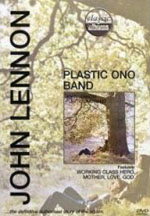 Continuing Eagle Rock's Classic Album series 'John Lennon/Plastic Ono Band' is a must for all self-respecting Lennon fans and music of fans of the era.
In many respects Lennon's first post Beatle album isn't an immediate contender for the list of classic albums. After all much of the material as the documentary makes clear came as a result of Lennon/Ono's primal therapy sessions with Dr. Arthur Janov - one of a number of excellent interviewees here.
It was as a result of a session with him in Bell Air that Lennon came up with the immortal line, 'God is a concept by which we measure our pain'. The DVD is an excellent resume of the making of John's most personal, immediate and first post Beatles album which despite being shot through full of childhood trauma and raw gut emotion yielded some timeless songs such as 'Instant Karma'(released as a separate single) 'Working Class Hero', Mother', 'God' and 'Love'.
And what makes this DVD truly excellent is the choice of Lennon contemporaries who are interviewed to talk about both the both the album and the man himself.
There's Ringo, who as ever employs a dry wit but recalls Lennon with true affection and Yoko herself, who paints a considered retrospective of the times and the redoubtable bass playing artist and friend Klaus Voorman, who also contributes anecdotes and several of the telling bass lines he contributed at the time.
Several other talking heads add a telling contextualisation of both the album and the times in between both interview clips and voiceovers of Lennon himself. Journalist Richard Williams for example, offers a brief analysis of some of the songs that is both considered and accurate, and there's an additional historical perspective from Beatles historian Mark Lewisohn.
But the core of the documentary resides in an almost secondary but vitally important and fascinating level with the reminiscences and outtakes courtesy the Abbey Road engineers Phil McDonald and Richard Lush.
The two also add a couple of interesting unheard extras in the bonus section which includes live footage of the Plastic Ono Band. Each song is deconstructed by players and engineers and the overall feel is of an artist in a hurry to get down his immediate feelings in the quickest way possible.
The end result is a documentary that goes well beyond its initial remit and tells you as much about the man (and his relationship with Yoko) as it does about the album, and that is a welcome bonus. Both Klaus and Ringo seem to remember the sessions with real affection - Ringo concluding that while Lennon explored all around him, 'I play the drums, if he wants to search, I'll play with you'.
Klaus Voorman recalls several little cameos of the time, including Lennon taking the band through an ad hoc rehearsal of 'Cold Turkey' on the plane to the Plastic Ono Band's Toronto concert, and also recalls a 'little man with a high voice in the studio', who everyone wondered who he was? It turned out to be Phil Spector, though as Ringo dryly remarked he never really contributed much.
With 37 minutes of previously unseen footage and plenty of thoughtful interviews from Yoko, Ringo and Klaus (the key players on the album) combined with some sharp editing (aside from aggregated bonus material) 'Plastic Ono Band' is a worthy addition to a fine series of 'Classic Albums' of our time.
*****
Review by Pete Feenstra