PETER FRIESTEDT LA Project Vol 2
Zink ZMCD003 (2008)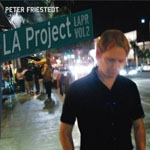 This is an album that is so smooth, so full of telegraphed choruses and AOR melodies that it becomes swamped by the very elements of tight arrangements and slick production that helped give the music its West Coast AOR label in the first place.
'LA Project' leader and guitarist Peter Friestedt remains firmly anchored to the genre throughout and if nothing else the CD does what it says on the tin! Think 80's Toto, Boston, The Cars all rolled into one with occasional forays into the pomp of Asia and the hipper jazzier environment of Steely Dan with harmonies that sound like they've been lifted from The Doobies or perhaps Michael McDonald.
'LA Project Vol 2' opens with a fine vocal performance by Bill Champlin but unfortunately establishes the template for far too much inoffensive AOR music best suited to airplane, lift or background music environment.
It's one thing to make an immaculately played and well produced album such as this, but quite another to ask us to swallow trite lyrics about love and endless MOR forays that are barely the right side of muzak. Things do lighten up slightly on the Steely Dan/Doobies influenced 'Cheyenne' complete with sophisticated bv's, a slick chorus and a snappy horn arrangement that sounds like it been lifted from a Phil Collins track. I'm sure you get the idea!
In fact it isn't until the sixth track and one of three album highlights - the cool instrumental 'Closer To Home' - when guitarist Peter Friestedt opens with an Earl Klugh style acoustic guitar line and Lou Pardini on piano fleshes out a lovely melody that the whole project finds a raison d'etre above that of the merely inoffensive. Immediately after that it's back to a soporific funk beat with the slightest suggestion of a reggae inflection.
Stefan Gunnarsson's vocals although perfectly delivered with a neat chorus and attendant bv's are so laid back that it matches the whole project which seems to be run on automatic. At least on 'Love is A Powerful Thing' the band hit some kind of funky groove and Michael Ruff's edgy vocals with a Stevie Wonder style inflection holds our interest, before guitarist Friestedt adds a brief solo without ever suggesting he is going to break sweat.
Other than 'Closer To Home' we have to wait until the last two tracks for the best of the 'LA Project'. Firstly there's the impressive stripped down duet between Friestedt and pianist/vocalist Randy Goodrum. The latter vocalist evokes Jackson Brown on some dark lyrics which include the lines, 'her religious driven goal is cold hard cash, and a full string section is written in her contract. No one gets back stage without a pass..as she waits her turn, for fame she did not earn'. Then there is 'Waiting For You' the acoustic guitar and orchestra end piece, a beautifully arranged instrumental that makes you wonder why we had to sit through so much slush to get to this excellent closing track.
File under 80's MOR and quietly move on.
***
Review by Pete Feenstra
---
| | |
| --- | --- |
| | Print this page in printer-friendly format |
| | Tell a friend about this page |