Calm before the career hiatus for Simon...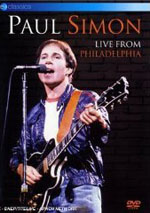 What is there to say about Paul Simon that we don't already know? He's one of the greatest song writers of our time, he's a musical innovator and as this video demonstrates he's unafraid to explore differing musical avenues.
'Live From Philadelphia' is an excellent mid price DVD which premieres Simon's 1980 Tower Theatre performance and acts a reminder of all his musical facets. Most of the set is in fact a reprise of his 70's post Simon & Garfunkel solo career with the emphasis being on the new 'One Trick Pony' album and film. And yet despite the prevailing musical excellence, this 1980 performance finds Paul Simon on the cusp of an unlikely commercial downturn which wasn't righted until 1986's shift to World Music and 'Graceland'.
But such is the inner strength of his songs and his innate connection with the audience that 'Live From Philadelphia' seems more of a reaffirmation of his qualities rather than anything to the contrary. Almost as if paralleling his temporary career hiatus he surrounds himself with a wonderful band of essential top jazz fusion players of impeccable taste and ability. But even the magnificent line-up of Richard Tee on keys and vocals, Eric Gale on guitar, Tony Levin on bass and Steve Gadd on drums, aka most of the legendary Stuff, are not a ready made buffer for prevailing late 70's disco trends.
Co-produced by Phil Ramone, the DVD is both well shot and musically inspiring but if anything has a mid-career feel about it, being one part retrospective and one part new album promotion.
That said, the new material holds up very well and aside from the lilting jazzy arrangement of 'Still Crazy After All These Years', there are a couple of unexpected highlights. The funky duet with Richard Tee on 'Ace in the Hole' is a real delight while the equally funky and almost subliminal reggae sophistication of 'One Trick Pony' comes complete with Levin's insistent bass lines and Tee's dreamy arpeggios.
Paul Simon's jazzy musical accomplices work up a real head of steam on the climactic Latino influenced 'Late in The Evening. It's a beautiful tension building groove that incorporates some delicious horn parts to supplement Gale's delicate guitar work and the Gadd/Levin mesmeric rhythm pattern.
Having brought the crowd to their feet with the perfect finale, 'rhymin' Simon still looks curiously uncomfortable. He elicits a nervous smile and waves farewell before returning to introspectively pick his way through the inevitable brace of big hitters, 'The Boxer' and 'The Sound of Silence'. Although lacking Garfunkel's delicate vocal phrasing, Simon's simple solo voice and guitar works perfectly in reminding everyone of the poignancy of his words and you can almost hear a pin drop in a quite moving end to an excellent concert.
****
Review by Pete Feenstra