PAUL GILBERT Silence Followed By A Deafening Roar (2008)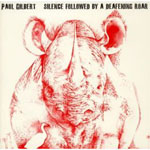 Paul Gilbert's second all instrumental solo album and one that is sure to delight his many fans. There are some real treats on here like the title track which really rocks out and then you have 'I Cannot Tell A Lie' whcih sounds like a power ballad but without the vocals.
Then you have the funky 'Bronx 1971' - this sounds like a 70's TV cop theme tune! The closing track is great fun - 'Paul Vs. Godzilla', this again hints at a nice 70's laidback rock vibe. Check out those solos though - listening to these you can see why Paul Gilbert is rightly held in suich high regard.
Great fun to listen to and highly recommended not only for his fans but anyone who likes guitar instrumental albums that have melodic and accessible tunes - Joe Satrianni et al.
****
Review by Jason Ritchie
---
| | |
| --- | --- |
| | Print this page in printer-friendly format |
| | Tell a friend about this page |
***** Out of this world | **** Pretty damn fine |
*** OK, approach with caution unless you are a fan |
** Instant bargain bin fodder | * Ugly. Just ugly
get ready to rock is a division of hotdigitsnewmedia group