PAT McMANUS In My Own Time Bad Reputation (2008)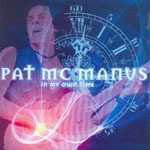 After the demise of the great Celtic fusioners Celtus, Pat McManus retreated back to Ireland. Now, half a decade later he emerges with the profoundly titled 'In My Own Time' originally released last summer. I approached this album with great expectation, always admiring Pat's work in Celtus (a consummate musician he also plays fiddle) and earlier with eighties hair-metallers Mama's Boys.
It's a fine album and beautifully recorded, but maybe should have been called "Out of Time'. Back in 1990 fellow countryman Gary Moore implemented the blues to rock template with 'Still Got The Blues' that others followed and for a while - with the likes of Jeff Healey and a nascent Walter Trout - blues was the new cool.
But that was nearly twenty years ago, and McManus arrives way after the last bus has left. There are shades of Gazza ('Same Old Story'), Robin Trower ('Back In The Saddle') and Rory Gallagher ('Return To The G.Man') and there's even a nod to McManus' Celtic heritage ('Juggernaut') which evokes the best of Horslips. The final track 'Just For Shannon' echoes 'Blow By Blow' period Jeff Beck.
Pat's playing is exemplary throughout and his melodic tapping technique marks this out from similar offerings. But you can't help thinking that Pat and brother John should combine again to update Celtus or even fashion something a bit more progressive.
***½
Review by David Randall
---
| | |
| --- | --- |
| | Print this page in printer-friendly format |
| | Tell a friend about this page |