ODIN DRAGONFLY Offerings (2008)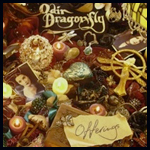 Odin Dragonfly are Angela Gordon and Heather Findlay of Mostly Autumn and the band namd comes from using an anagram of their surnames.
Those expecting something Mostly Autumn will get some of that band's sound mainly due to the wonderful vocals but those who enjoy folk and singer/songwriters will be in seventh heaven!
It is hard to pick highlights as each song has its own highlight if you like, be it the soothing vocals on 'Given Time', the blissful 'Waiting For The Snow' or the use of flute/piano/penny whistle on many of the songs.
Like Waking The Witch, Odin Dragonfly produce real, passionate folk with a little prog rock. Their cover of 'Witches Promise' by Jethro Tull for me beats the original! One other cover is an unrecorded Stevie Nicks tune, 'Forsaken Love', which again vocally has the hairs on the back of your neck standing up.
Simply stunning, I can't say more than that to give this album justice. Mostly Autumn fans will doubtless already have this album but it deserves a much wider audience as this is how female fronted acoustic folk rock should be done!
****½
Review by Jason Ritchie

Interview
---
| | |
| --- | --- |
| | Print this page in printer-friendly format |
| | Tell a friend about this page |