NITIN SAWHNEY London Undersound Cooking Vinyl POSITIV-IDCD001 (2008)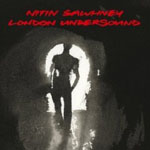 This album takes its cue from those terrible events in July 2005, when London was under attack from terrorists and there was the death of an innocent Brazilian.
Nitin Sawhney believes that the character of London changed after these events and he has attempted to capture the new spirit, of defiance, of hope, of loss. A feeling that things won't be the same again.
He's enlisted the help of a variety of performers and they are as diverse as the album he's created. The music is also diverse, reflecting London's cosmopolitanism
The backbeats aren't very far way, but 'October Daze' sung by Tina Grace is a great opener and it brings to mind Zero 7 or Morcheeba in its trip-hoppy-ness. More back beats on 'Bring It Home' featuring electro-maiden Imogen Heap (so that's where she's been hiding) and with the repeated mantra "Anything's Possible...We're In This Together'.
You might not expect Macca to crop up with a very short oratory about the paparazzi but he does and then it segues into 'My Soul', co-written by McCartney with Sawhney. The song features attractive vocals from Reena Bhardwaj who gets her own showcase on 'EK Jaan'.
Roxanne Tataei fronts a bossa-nova beat to 'Distant Dreams' with some classic orchestral arrangement, whilst world flavours pervade 'Shadowland', (featuring the Spanish band Ojos De Brujo who collaborated on Sawhney's last album) and 'Daybreak' featuring Pakistani singer Faheem Mazhar.
Two darker tracks feature Tina Grace on 'Transmission' whilst 'Last Train To Midnight' features Jack Bruce's daughter on vocals and a heavy trip-hop groove.
The album concludes with two attractive instrumentals 'Firmament', inspired by an Anthony Gormley sculpture (Gormley has also supplied the album artwork), and Charu Keshi Rain, a raga performed by Ravi Shankar's daughter.
London Undersound is a compelling work from a modern Renaissance man. And any city dweller should identify with the themes of isolation, humanity, and rebirth.
***½
Review by David Randall
---
| | |
| --- | --- |
| | Print this page in printer-friendly format |
| | Tell a friend about this page |