Chad and the pudding bowl...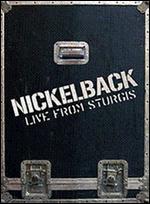 First up, it was mildly (no, actually more than mildly) annoying to have to watch a pre-release copy with 2 very prominent watermarks - Screen Copy Screen Copy # ****** at the top and DO NOT COPY at the bottom - permanently displayed across the screen. But hey ho, we're obviously not trusted with the first new Nickelback live concert DVD since 2002's double platinum release.
Now well established as a major headlining act after three excellent albums - Silver Side Up, The Long Road and All The Right Reasons, and of course the massive hit Rockstar, Nickelback are riding a wave. So to supplement their new album Dark Horse in your Christmas stocking, Live From Sturgis revisits the highlights of those first 3 albums in front of 40,000 fans.
A must have? I'm not so sure. For a start there's the question does Chad have long short hair, or short long hair? It's a conundrum, but all we know for sure, is that with the help of a pudding bowl, you too can get a similar look. Then there's rest of the band. They wouldn't be out of place on Wall Street. Nothing wrong with that, but it's hardly rock and roll. But then there's only one spotlight and that's on Chad.
Chad likes to use the F word. A lot. 'Are we going to have a good f**kin' time?' Too f**kin' right. Get your tits out. Chad likes those as well. And there are a few big mommas on display. So perhaps not the DVD for watching with the family after the Queen's speech on Christmas Day.
The band are good, no denying. And so what if it is the Chad show? But my main beef is that the running time of the concert is only an hour spanning just 12 songs, there's a distinct lack of fancy lighting, excessive pyrotechnics or other visual feasts, and despite being shot with 15 hi-def cameras, the range of shots and editing is pedestrian. Well short of best in class. A few more bucks thrown at the editing could have made it a much more captivating watch.
You do get some obligatory extras - behind the scenes footage, the Rockstar video, and a photo gallery. And the weird thing is, the concert footage in the documentary looks so much better shot and put together. It oozes the atmosphere that the main concert footage fails to capture. The answer, I suspect is that the Sturgis gig was part of the Rock The Rally Festival, itself part of the annual Sturgis Bike Week. So the stage was rigged not just for Nickelback and as a consequence we don't perhaps get the full Nickelback experience you could expect at a headlining arena date.
But no doubt fans will lap it up. And it'll not take up too much space in your Christmas stocking. Just don't play it when your f**kin' Nan's around. ***
****
Review by Pete Whalley