Just witnessed your best live gig?..send us a review!
NEIL YOUNG
Manchester Apollo, 12 March 2008
Photos by Lee Millward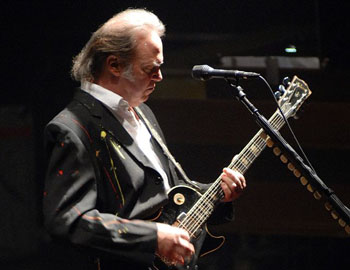 The word maverick gets bandied about in rock 'n' roll with alarming frequency. But one artist who can easily carry that title is Neil Young. At 62, the Godfather of Grunge is still stepping to his own unique rhythm, blissfully unconcerned with what critics, record companies or even his biggest fans think of him.

In the second of sold-out shows at the Manchester Apollo, Young offered himself up in two totally different flavours: contemplative acoustic Neil, and rocking-like-it-still-matters Neil. Both were equally filling and satisfying.

This was not a show for the passing fan, as Young dug deep into vintage albums and even his unreleased vault for the two-hour performance.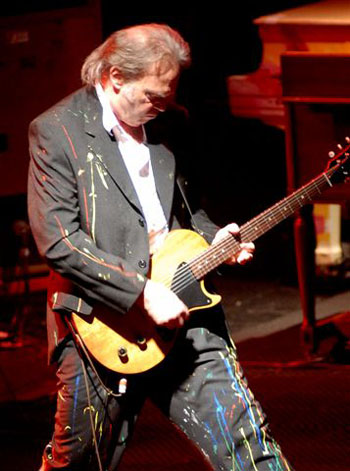 Taking to a stage littered with a forest of standing lights, a wooden Indian, and all sorts of assorted clutter, Young sat in a circle of his guitars and eased into the evening with the gentle harmonica of the beautiful "From Hank to Hendrix." The crowd offered up the first of many eruptions but mostly stayed quiet and respectful throughout the journey that followed.
We were treated to a wonderful selection of tracks from his past and the epic "Ambulance Blues," which contained the lyric "It's easy to get buried in the past/When you try to make a good thing last." summed up the spirit of the evening to perfection. Also in the first set were A Man Needs A Maid, Love Art Blues, Love Is A Rose , and to finish , Old Man.....He often wandered around the stage looking slightly confused and muttering to himself.....Little did we know of what to expect next...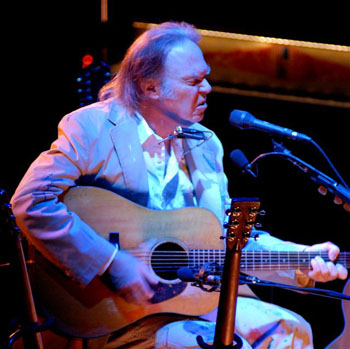 After an intermission the Jolly Roger and Union Flag were hoisted over Ralph Molina's drum kit, and Young charged back onto the stage with his band in tow and his amps turned up. The crowd was also ready to let it rip, albeit mostly from their seats, as the temperature rose in concert with the volume.

From the outset he made "Old Black" (his famous Gretsch guitar) howl and squeal for mercy, but none was given...He was in blistering form and made sure the capacity crowd went home happy and almost in a state of shock that a man of his years can perform with such passion and ferocity...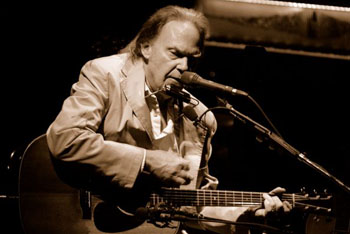 Our senses were assaulted by the likes of The Loner, Powderfinger, Hey Hey My My (a true rock anthem if ever there was one), and finally an epic twenty minute version of No Hidden Path. There was hardly time to recompose ourselves after such an onslaught when the band reappeared and tore into four, yes four, encores... Cinammon Girl, Fuckin Up, Tonights The Night, and The Sultan (from his very first band The Squires).

It might only be March , but this will surely be one of the best gigs of the year if not the best.
Review and photos ©2008 Lee Millward/GRTR!
All rights reserved.

Setlist
Acoustic set
1 From Hank To Hendrix
2 Ambulance Blues
3 Sad Movies
4 A Man Needs A Maid
5 No One Seems To Know
6 Harvest
7 Journey Through The Past
8 Mellow My Mind
9 Love Art Blues
10 Love Is A Rose
11Old Man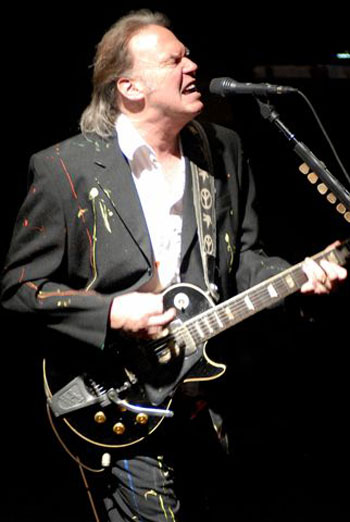 Electric set
1The Loner
2 Dirty Old Man
3 Spirit Road
4 Powderfinger
5Hey Hey My My
6Too Far Gone
7 Oh Lonesome Me
8 Band Intro- The Believer
9 No Hidden Path
10 Cinnamon Girl
11 Fuckin` Up
12 Tonight`s The Night
13 The Sultan

Line Up:
Neil Young - guitar, guitjo, harmonica, piano, vocals
Ben Keith - pedal steel, lap steel, guitar, organ, background vocals
Rick Rosas - bass, background vocals
Ralph Molina - drums, background vocals
Pegi Young - background vocals, vibraphone
Anthony Crawford - background vocals, piano, mandolin
---
| | |
| --- | --- |
| | Print this page in printer-friendly format |
| | Tell a friend about this page |