NEAL MORSE Lifeline (2008)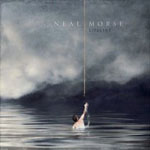 The ever busy Neal Morse returns with a new album and again he is ably assisted by Dream Theater drummer Mike Portnoy and bassist Randy George. Lyrically Morse again delves into his personal life and his religious beliefs but the lyrics are never preachy, more positive in outlook like the title track which opens the album in fine style. This song could easily have come off any of his previous solo albums or indeed Spock's Beard. Next up is the reflective 'Can't Find My Way', which along with 'Children Of The Chosen' allow Morse to show off his vocals and clever use of harmonies.
'Leviathan' is very heavy, with the guitars high in the mix and even some funky horns! Great fun to listen to and another musical avenue successfully taken by Morse & co. Of course there is the requisite epic prog rock number and weighing in a over twenty five minutes 'Many Roads' more than fits the bill. Plenty of musical variety on this song, including a couple of stunning instrumental pieces where the keys trade solos with guitars and percussion. Fans of Transatlantic and Spock's Beard will certainly enjoy this musical fest.
Neal Morse does it yet again, producing a rewarding and enjoyable set of songs, which are certainly more 'instant' than his last solo album 'Sola Scriptura' and likely to pick up more new fans who enjoy prog rock. Occasionally a few pieces of songs you think you have heard this before on his previous work but when the music is so good overall you can let this pass. Buy with confidence and enjoy!
****½
Review by Jason Ritchie
---
| | |
| --- | --- |
| | Print this page in printer-friendly format |
| | Tell a friend about this page |