MOSTLY AUTUMN Glass Shadows AUT 7333(2008)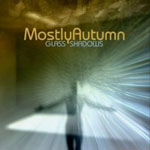 Mostly Autumn wear their Prog Rock pretensions on their sleeve as a badge of quality. The music is intricate, cleverly thought out, suitably retro, full of delightful harmonies, tasteful guitar breaks and keyboard progressions all tempered by the occasional ballad or as is the case in the closing 'A Different Sky', a surprisingly delightful pop song.
In fact given the sometimes weighty nature of their Proggy compositions and their obvious artistic debt to Pink Floyd and Dave Gilmour in particular on 'The Second Hand', 'Unofficial Sin', 'Paper Angels' and the title track, the shorter tracks act as welcome counter balance.
But there's more to Mostly Autumn than just post Floydian Proggy lines. In vocalist/pianist/percussion player Heather Findlay the band has the kind of vocal focus that can potentially attract a crossover audience. If either doesn't quite have the same sensual pull of say Enya she certainly makes the most of her solo options, most notably on the stripped down 'Above the Blue' on which her phrasing comes close to Karen Carpenter (don't laugh, a great voice is a great voice whatever the context).
She also impresses with the top harmony line on the Celtic influenced, acoustic/flute led intro of 'Until the Story Ends', one of the album's best cuts. Her harmonising with founder member and multi-instrumentalist Brian Josh revisits the opening vocal duet of 'Fireside' a typical acoustic /electric dynamic that permeates much of the album as a whole.
If there's a drawback it is possibly the kitchen sink and all approach most evident in the 11 minute plus title track. 'Glass Shadows' is the obvious pivotal track of the album. But the slow piano led/synth lines evoke early Pink Floyd without quite having the killer pay-off. The song comprises a gradation of sections carried along by a spirited guitar solo and climactic bv's before a dark church organ leads to a sudden tempo change with a repeated keyboard motif and telling slide guitar lines. There's an undoubted sense of progression but ultimately without a final destination.
'Glass Shadows' is in fact the kind of album that existing fans will play over and over again to glean every nuance while you suspect the uncommitted might not be tempted in their droves if only because the Floyd references are played out just a tad too obviously, leaving Mostly Autumn just a few core songs short of establishing their own signature sound.
And while you can easily identify 'Glass Shadows' as well crafted Prog Rock, you can't help thinking that the band are but a few short steps away from crossing over to an altogether bigger audience.
****
Review by Pete Feenstra
---
| | |
| --- | --- |
| | Print this page in printer-friendly format |
| | Tell a friend about this page |