MIND'S EYE 1994: The Afterglow Lion Music (2008)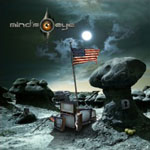 This is a re-issue of the band's debut album released back in, you guessed it, 1994. Despite the band's remarkably young age at the time of recording – one was a mere fifteen years old – they sound very accomplished and you can hear hints of what they would become in later years.
The Dream Theater influences shown more on here particularly on 'Beyond Endurance', an instrumental piece that allows guitarist Frederik Grunberger free reign. 'A Thousand Lights At Sundown' shows how the band can create longer pieces of music but never get bogged down in extended soloing just for the sake of it like some progressive metal acts can.
Obviously this is not a patch on 'A Gentleman's Hurricane' the band's last album to date but still worth adding to your collection if you are a fan as you can complete the picture and see where they started out. As debuts go this easily holds it own against similar bands. Very nicely packaged by the label with a bonus EP as well – bargain!
***½
Review by Jason Ritchie
---
| | |
| --- | --- |
| | Print this page in printer-friendly format |
| | Tell a friend about this page |
***** Out of this world | **** Pretty damn fine |
*** OK, approach with caution unless you are a fan |
** Instant bargain bin fodder | * Ugly. Just ugly
get ready to rock is a division of hotdigitsnewmedia group