MIKE OLDFIELD Music Of The Spheres
Universal UMC 4766206 (2008)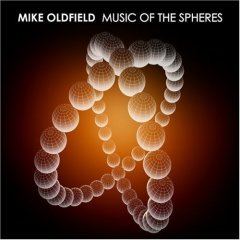 While its fundamentally wrong to suggest that Mile Oldfield's musical career will forever be overshadowed by 'Tubular Bells', you can't help but feeling that had this orchestral album been recorded by anyone else you sense it might have received even greater attention than at present.
When Mike announced last year he was thinking of recording an instrumental album, surely several long time fans might well have muttered, 'so what's new'? But given his career path so far, it is clear 'Music of the Spheres' is an unexpected quantum leap forward.
For while the real triumph of 'Tubular Bells' was that it gave Mike his signature sound - a mix of repeated piano notes that is characteristically utilised at the beginning of this new work - as well as his unique guitar sound and inevitably tubular bells - 'Music of the Spheres' is a very different piece of work based on the premise that every celestial body has an inner music.
As Mike has said, 'It's to do with the mathematical relationship between movements of the planets and harmonics of music, it's all music sound waves in the air'. And it is to his credit that this collaboration with composer Karl Jenkins overcomes such previous career pitfalls such as overblown instrumental works and basic repetition, to create an impressionistic body of orchestral work that traces the interrelated music pulses of the solar system and beyond.
'Music of the Spheres' achieves its lofty aims with 14 tracks full of vacillating emotions, moods and feelings on the back of some strong melodies and delicate harmonics.
Previous musical efforts alluding to such celestial spheres by the likes of Neil Ardley went some way to open the door to music beyond our daily existence, but as a complete body of work, this 45 minute suite (note the old style album running times) proves to be both as comprehensive as it satisfying. Apparently much of what Mike brought to the table at the compositional stage came in sampled orchestral format, and Karl Jenkins transposed it into an orchestral score.
The result is a superb effort with several restated themes such as 'Harbinger' and 'On My Heart' which is beautifully sung by Hayley Westernra. The different moods are carried on the back of several grand orchestral sweeps and polar opposite introspective passages that create an emotional musical roller coaster ride as exemplified by the reflective mood of the guitar led melody of 'Shabda'.
A short flute and horn passage is underpinned by imposing percussion and teases out the theme in a very ethereal way. And though the subsequent choral part does evoke the feeling of a film soundtrack, the 14 tracks do appear to be interrelated; none more so than the horn fanfare of 'Empyrean' that links the suitably titled 'The Other Side' with the big finale title track.
Similarly the plucked string effects that links 'Shabda' with the following self explanatory 'The Tempest' is a perfect example of the ebb and flow of the music, reflecting the interrelationships of the pulses and vibrations that Mike alludes to in his brief liner notes. And while his theory that 'the whole universe has music within it that no one can hear' leaves him exposed to cries of the king with no clothes, this splendid album musically brings to life those extra worldly elements.
The sharp dynamics and the bouts of light and shade as exemplified by 'Aurora' and are created on the back of an uplifting string intro and clever short choral burst and bolstered by a sharp horn piece, with Mike's acoustic guitar at the core of it all.
'Prophecy' is full of imposing strings, more acoustic guitar and accompanying piano and overall there's a climactic feeling of a tension release, while the closing title track revisits 'Tubular Bells' but surpasses it in an uplifting arrangement that does exactly what it says on the tin! Not so much transcendental music as an aural sculpture of what Mike imagines to be out there,
'Music of the Spheres' is a structural triumph, a hugely successful collaboration with Karl Jenkins and probably on the back of his previous soundtracks, World Music and New Age projects, his most successfully challenging album yet.
For a man who made his debut with 'Tubular Bells' (and yes they appear here too), 'Music of the Spheres' is one of his very best efforts - if not a career high - and that is high praise indeed.
****
Review by Pete Feenstra

---
| | |
| --- | --- |
| | Print this page in printer-friendly format |
| | Tell a friend about this page |