THE MICHAEL SCHENKER GROUP The Best Of '80-'84
EMI (2008)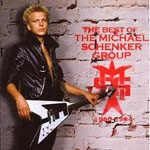 The Mad Axeman has had a long and varied career outside of Scorpions and UFO, and while he is rightly regarded as one of the best rock guitarists around, he has become of late one of the most inconsistent, both live and on record.
The original MSG is probably the highlight of his solo career, and certainly the most consistent, and that is collected here in fine fashion.
The CD opens with "Armed And Ready" and "Cry For The Nations" (radio edit), both from the first MSG album. Augmented by session players Don Airey, Simon Phillips and Mo Foster, with vocalist Gary Barden, the music is solid, with some excellent solos and catchy hooks.
"Into The Arena" (live), a single b-side, is an excellent version of a classic and welcome on CD here.
It wasn't until you got to 1981's MSG album that you had what you could call a band, and joining Schenker and Barden were drummer Cozy Powell, bassist Chris Glen and pianist/guitarist Paul Raymond. "Attack Of The Mad Axeman" and "On And On" are two of the best metal tracks by anyone, classic early 80s metal. MSG at their very best.
Same goes for One Night At The Budokan, a double live set that did for MSG what Strangers In The Night did for UFO, and is represented by "Victim Of Illusion". Proof that the rhythm section of Glen and Powell really were as good as it got.
All change for 1982's Assault Attack. Powell, Raymond and Barden were out, and in came former Rainbow vocalist Graham Bonnet, SAHB drummer Ted McKenna (reunited with SAHB bassist Glen) and pianist Tommy Eyre. Here we get the title track, the album's only single in "Dancer" and the single b-side "Girl From Uptown". The album wasn't rated at the time but looking back, all the band members without exception were at the top of the game. If you want Schenker on top form playing as melodic as he got, this was it. Really.
Bonnet's record with temperamental guitarists wasn't good and he lasted about 5 minutes, so Gary Barden was back, with pianist Andy Nye. 1983's Built To Destroy, another excellent album and is represented by "Rock Will Never Die", "Captain Nemo" (original mix) and "Rock My Nights Away". Some great keyboard lines to match the guitar.
1984 and the band's swansong was the single live LP Rock Will Never Die, represented here by a seven minute take on "Doctor Doctor".
A good compilation, representative. The big drawback is that it is a single disc, but it does provide strong argument for a complete remaster of the 80-84 material. Great to have the non-LP b-sides on CD in this country, but if they can bolster albums with demo or live material, you'd have a winning collection of albums for sure.
****½
Review by Joe Geesin
---
| | |
| --- | --- |
| | Print this page in printer-friendly format |
| | Tell a friend about this page |