MEGADETH Anthology Set The World Afire
2CD Capitol/EMI (2008)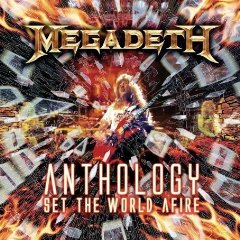 Yes another compilation by these thrash legends, but I think most would agree Capitol Punishment was insufficient at being a single disc, and the 4CD box set too much for the casual fan. So here we have something for both, and more besides.
There's no need to go into the history or music too much, suffice to say any set with "Peace Sells" and "Wake Up Dead" amongst the opening few numbers makes for essential listening. "Hanger 18" and "Sweating Bullets" too are essential amongst any self respecting metal collection, extreme or otherwise. And that's only disc one.
At the turn of the 90s, "Hanger 18" proved that Megadeth could churn out fast furious metal to match Metallica, solos to match and intelligent lyrics to boost. From then on, for all their problems, Megadeth still proved more consistent than Metallica throughout the decade. A couple of demos, including the previously unreleased demo of "High Speed Dirt" close the disc.
Disc 2 opens with "Skin O' My Teeth" and tracks like "Train Of Consequences" are great to hear too. "Trust" and "Insomnia" are underrated greats too. And those who missed "Capitol Punishment" and "Greatest Hits" discs get "Kill The King" too. The live "Reckoning Day" is previously unreleased, and there are tracks from 'Hidden Treasures' and soundtracks including 'Last Action Hero'.
The set finishes with two live classics from single b-sides; "Symphony Of Destruction" (this recording previously unreleased in the US) and "Peace Sell".
Even over 2 discs there's scope for arguing over track listing (for example there's no "Mary Jane"), but as an Anthology, it does exactly what it says on the tin: hits, singles, rarities, there's not one bum track (well there is one, a cover, you can probably guess, but "Never Say Die" would have been a better choice).
You may have most of the tracks already, but it's still a damn good set. We get band line-ups and where each track comes from, but it is short on sleevenotes.
Just stick it on and crank it up!
****½
Review by Joe Geesin
---
| | |
| --- | --- |
| | Print this page in printer-friendly format |
| | Tell a friend about this page |