MATT ROEHR UHad2BThere! : Live Bootleg Vol 1
Gonzo 002 (2008)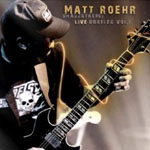 Former Böhse Onkelz bass player turned guitarist Matt Roehr is a German guitarist of some ability and on 'UHad2BThere! ' here he leads a kick ass band on what sounds like a desk tape taken from two live club appearances in Berlin and Hannover.
Together with former Ted Nugent/Humble Pie and current Foghat member, guitarist Charlie Huhn Matt tears his way confidently through a mix of melodic rock, Latin influenced grooves and some pile driving playing.
The curious thing about these eleven tracks is that if anything they are too diverse, starting with a heads down no nonsense rendition of Don Nix's 'Going Down', through to yet another version of 'All Along The Watchtower'. Then there's the Latino feel of 'Barra Da Tijuca', which features some rumbling bass work from Marcelo Linhares and echoes of Santana on 'Hasta Un Cualquier Dia'.
It's a curious blend if only for the fact that Roehr seems happiest on the title track 'You Had To be There' which has a great hook and some rocking urgency, while 'I Ain't Around No More' makes the best of a strong melodic undertow topped by some nice wah wah. But the band saves the best for near the end when Charlie Huhn resurrects the Humble Pie's favourite and Ray Charles penned 'I Don't Need No Doctor' while Roehr himself adds some nice licks on 'Wheel of Fortune'.
You can file the Matt Roehr band under solid and reliable and as this CD suggests probably best to catch them live.
***
Review by Pete Feenstra
---
| | |
| --- | --- |
| | Print this page in printer-friendly format |
| | Tell a friend about this page |