MARTYN JOSEPH Evolved Pipe Records (2008)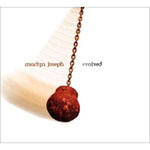 Martyn Joseph has been recording and touring now since the early 80's with reviewers often labelling him the Welsh Springsteen. The idea behind this album is to record highlights of his past work as they would sound in a live setting so it is acoustic guitar with a little harmonica now and then as the musical backing. A quick word though about the wonderful packaging with this CD which has a card for each song containing the lyrics and an illustration or picture of Martyn.
This really makes for something special when you buy the CD which you never get when you download music.
The songs lyrics range from the very personal ones looking at faith and doubt like 'Turn Me Tender' through to Welsh flavoured songs covering the Aberfan mining disaster 'Sing To My Soul', 'Please Sir' which covers the coal miner's struggle to adapt to the collapse of their industry and my personal favourate, 'Proud Valley Boy's' a stirring anthem in memory of Paul Robeson's inspirational visit to Wales. Like fellow Welshman Mike Peters of the Alarm, Martyn Joseph really pours passion into his songs although he is a tad more subtle than Peters in that he avoids rousing choruses and instead goes for the listener's conscious.
Not an artist I was overly familiar with prior to hearing this album bar his wonderful song 'Dolphins Make Me Cry', this album has made me want to seek out his earlier albums and if you give this album a listen I am sure you will want to discover more by this very accomplished and talented artist. Plus the whole package is one to revel in with the lyric cards being a wonderful idea adding greatly to the overall enjoyment of this album.
****
Review by Jason Ritchie
---
| | |
| --- | --- |
| | Print this page in printer-friendly format |
| | Tell a friend about this page |