MARCO SFOGLI There's Hope Lion Music LMC228 (2008)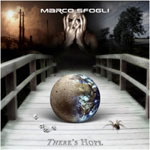 Sfogli was the guitarist who added so much to James La Brie's solo album and tour 'Elements Of Persuasion'. This is his first solo effort, and it seems the aim has been to demonstrate mastery of a number of styles and influences, but without really pushing the boundaries.
Guitar musos will no doubt find much to admire but anyone hot footing it from La Brie and expecting similar fireworks may be disappointed.
Solo albums of guitar virtuosi often expose the player outside of a group context, and Sfogli's debut plays safe.
'Still Hurts' is a torch-blazing opener with fluid shred and keyboard interplay and, 'Andromeda' holds a good riff for the middle section. 'Seven' is an attractive mid-tempo piece with infectious piano-led motif that develops a la father of shred Al Di Meola. 'Spread The Word' is a funky work-out with nice Hammond interplay but fairly perfunctory.
'Sunset Lights' sounds like it has come straight out of the eighties replete with bubbling synth stabs, but nothing you haven't heard before from the likes of Neal Schon or Luke.
If only Sfogli had maintained the urgency delivered on 'Genius' - which has a simply wonderful riff grinding behind shred and synth interplay. But as if to confirm suspicions there is the predictable country picking of 'Texas BBQ'. This bolsters Sfogli's virtuosi credentials but it plays more like a demo disc than something that will grab you in the nuts.
The driving title track is so redolent of Petrucci and 'Farewell' of Satch that it may send you back to the original source and this is, I feel, where Sfogli has missed a trick. There's Hope, certainly, but Sfogli's earlier potential - as evidenced on the La Brie disc - is not fully realised here.
***½
Review by David Randall
---
| | |
| --- | --- |
| | Print this page in printer-friendly format |
| | Tell a friend about this page |