THE MANNISH BOYS Lowdown Feelin'
Wienerworld DGPCD122 (2008)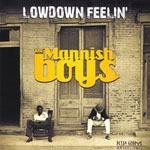 'Lowdown Feelin' by the Mannish Boys is a lovingly put together big band blues review with the avowed intention of showcasing the blues in its widest form. With the equally stated intention of including several veteran blues practioners along the way, the album does 'what it says on the tin' with the full gamut of Chicago and Texas Blues styles as well as West Coast Swing and even gospel etc. But what the project dearly lacks is a charismatic front man like Otis Grand, because for most of this 17 track CD you get the big band ensemble feel of Roomful of Blues without the steering capabilities of Duke Robillard or Gregg Piccolo.
The opening 'These Kind of Blues' nicely set the tone for a blues journey that has its moments, but for the most part is solid rather than inspirational. For while blues catalyst, producer and musician Randy Chortkoff has done an incredibly good job to gather together some of the core veterans of the living blues community including vocalist Bobby Jones and the energetic harp playing Little Sammy Davis, there's a missing link to front the whole project.. In short you can't drive a bus from the back, and while Frank Goldwasser's impresses both with his slide playing on 'Searchin Blues' and with a grainy tone on 'Rude Groove' and fellow guitarist Kid Ramos eloquently solos on 'You Don't Love Me', it takes more than a few guitar driven moments, big horn arrangements and good will to produce something out of the ordinary.
In fact it is vocalist Finis Tasby who comes closest to being the real deal both on the title track and the Kirk Fletcher led 'If The Washing Don't Get You, The Rinsing Will'. There's a lovely dichotomy between Tasbi's warm, delicate voice and Fletcher insistent clean lines over a rock solid back beat. Tasby similarly impresses with Fletcher on the cover of Deacon Jones's 'Something's Wrong' In fact it falls to vocalist Bobby Jones to carry the project and while he does a fair job throughout his gritty vocals and belated growl only really stand out on the relentless boogie of 'The Woodchuck' on which Lynwood Slim guests with a repeated harp riff.
Project leader Randy Chortkoff takes over on vocals and harp on the self penned, self explanatory 'Rude Groove' on which both guitarists Goldwasser and the stinging style of Kid Ramos flourish either side of a cool B3 solo. Chortkoff's adds a guttural utterance as he concludes his harp solo, suggesting he was really pushing the combo in overdrive. It's a rare moment when things really gel beyond the functional. Listen for example to 'Good Times' which features the world weary blues voice of Johnny Dyer, and Al Blake's sympathetic harp. It's the kind of down home piece that should really work, but even West Coast Jump blues guitarist Junior Watson seems retrained while the Fred Kaplan'sB3 noodles sounds nothing short of restless!
And while The Mannish Boys will undoubtedly curry favour with blues traditionalists as evidenced by its successful American blues chart position, just like the recent the Vaughan/Dykes 'Jimmy Reed Highway' album, there needs to be just a touch more sparkle to really mark it out as special.
***
Review by Pete Feenstra
---
| | |
| --- | --- |
| | Print this page in printer-friendly format |
| | Tell a friend about this page |