Laid back cool beside the North Sea...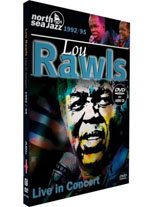 In many ways both baritone singer Lou Rawls and the ever popular North Sea Jazz Festival are a match made in heaven. For while this double CD/DVD focuses on the prodigious career of Mr.Smooth's enduring appeal, it equally makes clear that this splendid festival remains almost in aspic, trotting out the same names year after year. And Lou's comment in the post gig interview that he attributes his longevity to 'doing what the people want to hear' (outside of changing trends) is a resonant metaphor for the festival.
Steeped in gospel and soul and raised on a mix of jazz and blues Lou Rawls found his niche long ago in the Billy Eckstine/Joe Williams mould, and built his enduring appeal by bringing his four octave range voice to focus on blues, soul, jazz and his favoured ballads. The latter is much in evidence on the laid back 1995 performance. Of course the timbre of his voice is everything and although neither of these two performances are anywhere near his best - indeed he sings within himself much of the time - there are still some outstanding moments, especially on the 1992 concert.
It's instructive to listen to the audio first before becoming subsumed in the dazzle of the concert spectacle on the DVD and in doing so you tend to pick out the core moments more easily. Lou extends a vowel here and holds a low baritone note there, but occasionally there are a few ragged moments, most notably on the long time favourite 'Groovy People'. Essentially a mellow song, Lou actually sounds like he's forcing his famous baritone, while on the equally laid back 'At Last', he almost hurries his lines.
These moments are happily balanced out by the far more impressive cool of 'Let Me Be Good To You' and a measured use of his baritone on the blues favourite and concert highlight 'Room With A View'.
On the 1992 concert Lou reprises his early career work with Sam Cooke on 'Bring It On Home', and seems happiest in both concerts when applying his vocal nuances to the cabaret style of 'Send in the Clowns'.
Certainly the 1992 concert crowd seem far more fired up than three years on, probably as a consequence of Lou's far more laid back approach in '95, where his startling formal blue blazer attire almost acts as a signifier to the more sombre approach to the set.
No major surprises then, except that it beggars belief that whoever compiled the info for 1992 set list credits the closing 'Let It Roll' as 'unidentified', when surely both Lou and his erstwhile band must know they were covering Jimmy Reed's 'Baby What You Want Me To Do'?
***
Review by Pete Feenstra