LOS FABULOCOS Featuring Kid Ramos
Delta DGPCD 125 (2008)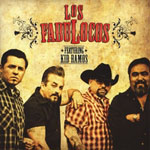 The very fact that Los FabuLocos call their brand of Latin roots-rock Cali-Mex rather than Tex Mex gives you a clue as to their Southern California location as well as the left field niche of much of this music. Of course that's not to say that Jesus Cuevas the hugely talented accordionist/song writer and former member of East LA legends The Blazers, and one time Fab T Birds guitarist Kid Ramos have completely slammed the door on their r&b roots. But it serves as a warning that this is an album crammed full of the music the band members love with scant regard for the commercial returns. Indeed, inclusion of material like the Doug Sahm cover 'Crazy Baby' and the 1958 Lloyd Price hit 'Just Because' as well as the Chicano feel to much of the music seems to be tied in with the SoCal bar rooms that give a great live band like this their living.
Perhaps the Delta Groove label is hoping that the occasional glimpses of rockabilly/R&B to be found in the guitar led 'Burning the Chicken', as well as the cover of the familiar 'You Ain't Doing Nothing But Fine' (aka 'Fine Fine Fine') and the guitar boogie 'Day After Day', will bring the band a bigger audience. In fact there's no reason why an album like this shouldn't cross over, except for the fact that where the Mexican side of things impresses with its traditional mix of polkas and love songs, the more retro R&B style material is preaching to an aging audience. Nothing wrong in that of course, but in terms of cross over appeal, the band seem to have already boxed themselves into a corner before they have an opportunity to break out their music to the more receptive Euro market.
Nonetheless, there are some magical moments here, most notably the glistening harmonies and flighty squeezebox of 'Un Mojado Sin Licencia', and the similar accordion led album closer, 'Mexicano Americano'. There's also a lovely rumba percussive feel to the acoustic guitar led 'Lonesome Tears in My Eyes'. But given the respe ctive talents of Jesus Cuevas and Kid Ramos there's a slight over emphasis on the deferential and not enough collective fire to really fulfil the collective potential. And when you think about it the thing that made Los Lobos and Los Lonely Boys so popular were killer songs which on balance are missing here.
***
Review by Pete Feenstra
---
| | |
| --- | --- |
| | Print this page in printer-friendly format |
| | Tell a friend about this page |