LIVERPOOL The Number Ones Album EMI (2008)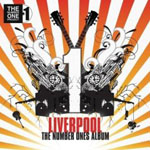 Capital Of Culture. Are you 'avin' a laff? Well, someone at EMI is. In theory, bringing together a compilation of some of the best number ones to come out of Liverpool in the sixties and beyond is a great idea.
But for all the versions to be covers by first division, and 'has been' bands wasn't so clever. Even covers by premiership bands would have been a big shout. 'Classics' do not generally lend themselves well to cheap flattery and imitation.
Actually, it doesn't kick off too badly with Atomic Kitten doing a pretty plausible cover of Cilla's Anyone Who Had a Heart. But from there it generally goes downhill. The Farm covering Needles and Pins adds nothing to the original, and Ian McNabb attempting a cover of Lennon's Woman is just a bad idea. Period.
Thea Gilmore and Elvis Costello fall short of the mark, and as for Scaffold's cover of 3 Shirts On A Line, just don't go there. OMD and China Crisis try their best, but their best years were long ago.
But where it goes seriously wrong is trying to cover Beatles songs. Sonia gives it a go as only Sonia can. But Eaton Road? Come on. Sadly they're not in misplaced company.
Garry Christian does his best George Harrison impersonation on My Sweet Lord, and Thomas Lord gives You'll Never Walk Alone an unusual jazz twist. At Least Digsy And The Sums give it loads on a sprightly rendition of Paperback Writer.
But there is one hidden gem - a sublime version of Frankie's The Power Of Love by Nasher (ex Frankie) on acoustic and Connie Lush on vocals. It succeeds where every other track fails by reinterpreting the original and producing a version that is simple, stunning and valid in it's own right. I strongly recommend exploring a download of that track. As for the rest, you have been warned.
**
Review by Pete Whalley
---
| | |
| --- | --- |
| | Print this page in printer-friendly format |
| | Tell a friend about this page |