LITTLE FEAT & FRIENDS Join The Band Proper PRPCD038 (2008)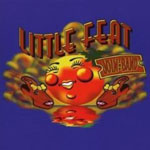 'Join the Band' is one of those all star projects where a core artists or band is joined by a roll call of musically related star turns who come to pay homage. In the case of Little Feat whose main song writing and guitar playing inspiration Lowell George died back in 79, it's a case of rejigging some of the band's best material and musically related songs in the company of some high profile if at times unlikely guests.
The whole project apparently came about via the unlikely figure of vocalist Jimmy Buffett who turns in the best possible showcase for his emotive voice on 'Champion of the World,' which is a in fact a far better effort than he suggested was possible on the earlier reading of 'Time Loves A Hero'.
Little Feat of course were always a wonderful mix of country, funk, jazzy blues and boogie and overall the pairings of the remaining core band with a wide array of guests just about works. In truth there is much to lose with an album like this, after all how can you top some cuts that remain classics of their genre?
Take for example the surprising inclusion of the fine Louisiana slide player Sonny Landreth when you still have the Feat's own slide maestro Bill Payne in the band. And things don't exactly power from the off as the opening 'Fat Man in the Bath Tub' - which features both Sonny and Dave Matthews - is at best OK and at worse a little too brusque in the vocal department with the slide playing mixed too far back.
This is followed by an excellent take of 'Oh Atlanta' by the Black Crowes' Chris Robinson but it's rather too close to the original. In fact it is the Country artists who fare best with Brooks and Dunn, bringing some real Little Feat sensibilities to their version of 'Willin' and Vince Gill who is outstanding on 'Dixie Chicken' (with Sonny Laundrette's slide further to the fore). Vince also adds some splendid phrasing on 'the equally impressive 'Spanish Moon' while there's even a welcome and unexpected return to the studio for Bob Seger on a suitably rocking 'Something in the Water'.
By the finish it is in fact Lowell George's daughter Inara who steals the show with her fragile as porcelain vocals on 'Trouble', with Sonny again offering a helping hand.
But the album wilts somewhat towards the end. The inclusion of some rather unimaginative material such as 'The Weight' and the tedious closing brace of 'See Ya Later Alligator' and 'Don't Ya Just Know It' is only partly balanced by a surprisingly good Country Gospel duet 'This Land is Your Land' featuring Phish's Mike Gordon on.
This is a poor return for what could have been a slightly more interesting project. When you consider the album could have included songs like 'Roll Um Easy', 'On Your Way Back Down' and 'Triple Face Boogie' or indeed 'Cold Cold Cold, there are elements of a missed opportunity. Those gripes aside there's enough here to interest long time fans and perhaps pull in a few new converts on the back of the guest artists.
***
Review by Pete Feenstra
---
| | |
| --- | --- |
| | Print this page in printer-friendly format |
| | Tell a friend about this page |