LECHERY Violator Metal Heaven (2008)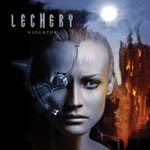 Close your eyes and you could almost be back in the mid-eighties and the era of prime-time Dokken. This Swedish four-piece formed a few years ago and include guitarist (and vocals) Martin Bengtsson who was in Arch Enemy during 1997-1998.
Lechery is more mainstream than Arch Enemy, melodic rock but with a harder edge, taking a cue from Dokken and even fellow countrypersons Europe to fashion an album that's totally compulsive from start to finish.
From the opening twin guitar assault of Bengtsson and Frederik Nordstrandh on 'Rise With Me' and 'Come Alive', this is an album of straight-ahead, crunching, no-nonsense guitar riffs, strong vocals, and rousing choruses.
Other highlights include 'Hero Of The Night' (which out-Dokkens Don), 'Your Fate' with its bludgeoning Maiden-esque figures and the über-riffing of 'What Burns In Their Eyes', 'Slave Under Passion' and 'Cynical'. But, really, this is all good.
There's something in the Scandinavian psyche that produces wonderful melodic metal and this is no different. We touched on this when talking to Ken Hensley recently: his band is from Norway, for a reason. Lovers of classic eighties metal, we salute you.
****½
Review by David Randall

---
| | |
| --- | --- |
| | Print this page in printer-friendly format |
| | Tell a friend about this page |