THE LEC ZORN PROJECT It Began In the Underground (2008)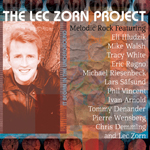 Lec Zorn's debut album which started out back in 1995! There are some AOR names on here with Lec himself handling bass/synths. Those joining Lec include Mike Walsh (Departure), Michael Riesenbeck, Tommy Denander (Radioactive), Eli Hludzik (Dakota), Phil Vincent (Tragik), Eric Ragno (Takara) and vocalist Tracy White (Shotgun Symphony) who sings on most of the songs.
As with any good AOR release we kick off with a pomp instrumental, 'Lecoverture' which sounds like Kansas meets Toto (the other instrumental on here 'Perseverance' again hints at late 80's Toto in its sound). 'Long Time Coming' and 'Second Chance' (another version of this song closes the album with Phil Vincent on vocals and this version of r=me is the stronger of the two) are top notch AOR tunes each having a catchy chorus and some neat guitar playing.
Then there is a great cover of the Kansas classic 'Play The Game Tonight' and in fact much of the music on here has a hint of the Elefante brothers era Kansas. 'Fighting Chance' is a keep on going despite the odds anthem, although the guitar riff does sound uncannily like Survivor's 'Eye Of The Tiger'! Only 'Starting All Over Again' sounds a tad pedestrian but the album gets back on track with the awesome 'The Rush Of Passion's Fire' - great guitar and keys on this one.
A 'must have' for all lovers of 80's influenced AOR - think mid-80's Kansas, Survivor, Shotgun Symphony and Joseph Williams era Toto. If this was out in the 80's it would have been regarded as genre template and rightly so. Hopefully a second album will follow soon and a label like Escape of Frontiers will sign Lec up!
****
Review by Jason Ritchie

---
| | |
| --- | --- |
| | Print this page in printer-friendly format |
| | Tell a friend about this page |