LAUREN HARRIS Calm Before The Storm DR2 (2008)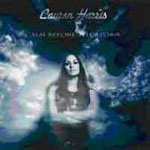 OK, who can name a rock offspring who has managed to make it on the basis of their own abilities? Jason Bonham? Perhaps, but let's be honest his most famous hour was playing with his late father's OAP compadres. I must admit my mind goes pretty blank after that - I certainly wouldn't count either of John Lennon's sons as contenders.
There must be a reason why that isn't so. I suppose it's the same as footie - talent is something that isn't genetic. It's the product of upbringing, hunger, desire and the cards that life deals.
So where's this going? Well, Lauren Harris is the daughter of Iron Maiden bassist and founding member Steve Harris. So it's pretty reasonable to assume that she's no stranger to a six string, the inside of a recording studio or a backstage pass.
'Spotted' by legendary British writer/producer Russ Ballard, Lauren has already supported some major league artists such as Alice Cooper, Iron Maiden (nepotism anybody?), The Answer, Korn and Thunder. So the question that needs to be answered is, is this star billing on the basis of raw talent or who her father knows?
Now I don't want to piss on anybody's parade, but the truth is that Calm Before The Storm is a good workman (or workwoman?) like album. It's formulaic middle of the road, easy on the ear, radio friendly rock. But it lacks any cutting edge, any sense of urgency or, to be blunt, passion. It sounds like its been recorded in the comfort zone. Not once does it puff its chest out and shout 'look at me!'
And I guess that's why rock stars don't produce rock stars. On the other hand, the album was largely written and produced by Tommy McWilliams who, apart from sitting behind the drum kit, spent fifteen years between 1989 and 2004 writing, programming and producing for artists such as Jon Secada, Gloria Estefan, Lindsey Lohan, and Ricky Martin. Which could equally explain it.
***
Review by Pete Whalley
---
| | |
| --- | --- |
| | Print this page in printer-friendly format |
| | Tell a friend about this page |